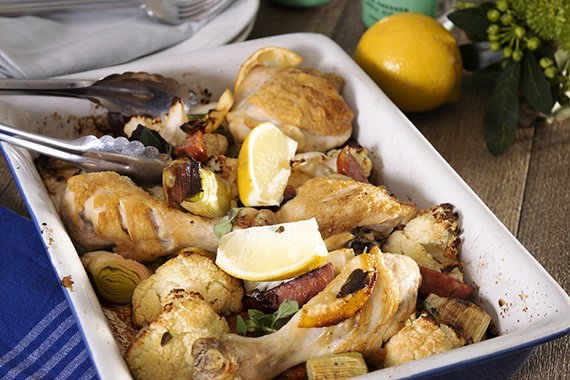 Chorizo, Chicken & Cauliflower Bake with Leek, Lemon & Fresh Oregano
Prep time: 30
Calories: 660
Punchy chorizo and lemon steal the show in this bake with cauliflower, chicken and leek. Hints of oregano also add some Autumn flavours to this easy and tasty dinner. We think a nice, crisp cider goes great with this dish. Share the moment #youplateit on Instagram. Enjoy!
Ingredients
0.5 Cauliflower (small)

1 100 Gram Pack of Chorizo

4 Garlic Clove

1 Leek

1 Small Bunch of Oregano

2 Chicken Thighs (skin on) & Drumsticks

1 Lemon
Recipe
Prepare Ingredients:
Preheat oven to 200°C. Trim and discard roots and tops of leeks, leaving only the white and light green parts. Slice leek into 2 cm rounds. Place leek into a bowl of cold water and wash well to ensure all the dirt is removed. Wash remaining fresh produce. Cut cauliflower into bite size florets. Cut chorizo in half length wise and slice, about 5 mm thick. Peel garlic and squash (using the heel of your hand or flat of the knife blade). Cut lemon in half; thinly slice ½, cut the remainder into wedges. Pick oregano leaves, discarding stems.
Bake Veg:
Place cauliflower, chorizo, garlic, leeks, sliced lemon and oregano in an oven proof dish. Drizzle with 2 Tbs olive oil, season and toss to combine. Place in the oven and roast, turning occasionally, until golden, about 10-15 minutes.
Seal Chicken:
Pat dry chicken with paper towel. Using a sharp knife, score the skin of each chicken piece 3 times. Heat oil in a pan over medium-high heat (enough to cover the base of the pan). Add chicken, skin side down. Cook, turning once, 2-3 minutes each side, until browned all over.
Add Chicken:
Carefully remove the dish from the oven (trying not to drool, it'll smell amazing) and place chicken pieces on top of the baked vegetables and chorizo. Return dish to the oven and roast until chicken is cooked through, about 15-18 minutes more.
You Plate It:
Remove from oven and divide between plates (or straight from the dish). Serve with lemon wedges alongside. Enjoy!