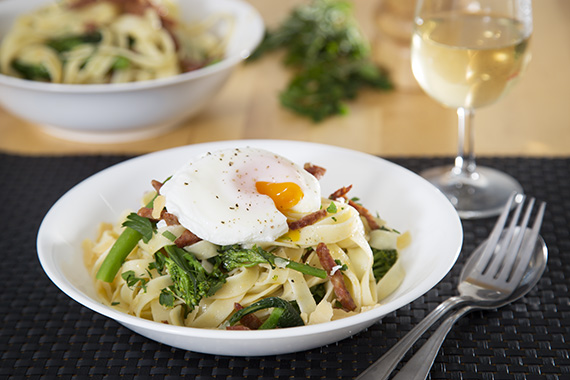 Chorizo Tagliatelle with Poached Egg
Prep time: 25
Calories: 750
This is a simple but delicious pasta dish, with the addition of an optional poached egg is quick to make. The gooey egg yolk, combined with the chorizo, garlic and parmesan are a delightful flavour combination. You do require a little bit of organisation with your timing with this one, so be sure to read through the recipe first, before starting. Tip: The fresher your eggs, the better they will hold their shape when poaching. Share your moment at #youplateit on Instagram.
Ingredients
200 Grams of Chorizo

1 Garlic Clove

1 250 Gram Pack of Tagliatelle No.82

2 Tablespoons of White Vinegar

2 Egg (pantry)

0.25 Cups of Parmesan (Shredded)

1 Small Bunch of Flatleaf Parsley

1 Bunch of Broccolini
Recipe
Prepare Ingredients:
Wash the fresh produce. Place a large pot of salted water on to boil for pasta in step 3. While water is coming to the boil, cut chorizo in half lengthwise and into small strips. Peel and mince garlic. Trim broccolini stems off and roughly chop parsley leaves.
Cook Chorizo:
In a medium pan, heat oil. As it starts to shimmer, add chorizo and cook over medium heat for 3 - 4 minutes, until golden. Add garlic and continue cooking for 1 minute. Remove pan from the heat and cover to keep warm.
Cook Pasta & Broccolini:
Cook pasta in the large pot of boiling, salted water. Add broccolini after 3 minutes and continue cooking pasta until tender, about 6 minutes in total. Drain and reserve ¼ cup of cooking liquid. Return pasta and broccolini to the pot and cover to keep warm.
Poach Egg Optional:
Optional: In the meantime, fill half a pan or pot with water and bring to the boil. Stir in vinegar. Break one egg into a cup and pour in at the side of the pan, repeat with remaining eggs. When eggs are in the pan, return water to the boil. Cover pan, turn off the heat and let stand for about 4 minutes or until a light film of egg white sets over the egg yolks. Remove eggs with a slotted spoon and rest on paper towel to soak up any excess liquid.
Mix Pasta:
Add cooked chorizo, reserved cooking liquid, chopped parsley and parmesan reserving some for garnish to the pasta pot, and heat over low heat until combined and warmed through. Season with salt and pepper.
You Plate It:
Divide pasta between bowls and top with poached egg if using, garnishing with parmesan and parsley. Enjoy!