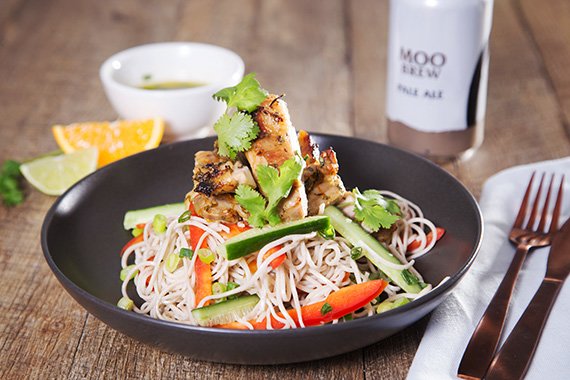 Citrus & Soy Chicken Thighs over Soba Noodles
Prep time:

35

minutes

Calories: 890
Soba noodles are a Japanese noodle made from buckwheat flour. They are often served chilled in salads, and also taste delicious in hot soups. In this recipe you will marinate the chicken in a simply divine marinade of citrus, soy, and garlic. Some simple red capsicum, cucumber and spring onion is the perfect way to top a delightful dinner. #youplateit
Ingredients
1 Small Bunch of Coriander

1 Garlic Clove

1 Lime

1 Orange

20 Grams of Soy Sauce

3 Chicken Thighs (skin on)

2 Spring Onion

1 Red Capsicum (Small)

1 Lebanese Cucumber

100 Grams of Soba Noodles

2 Teaspoons of Rice Vinegar & Sesame Oil
Recipe
Make Marinade:
Preheat oven to 200°C. Wash the fresh produce. Roughly chop coriander leaves, discarding stems. Peel and mince garlic. Zest lime and orange then halve. In a medium bowl, whisk together coriander, garlic, lime and orange zest (to taste), juice of HALF the lime & orange, soy sauce, and 1 TBS olive oil. Taste and add salt and pepper as needed.
Marinate Chicken:
Pat dry chicken with paper towel. In a large resealable plastic bag, combine chicken and ¾ of marinade, reserving remainder for serving. Shake to coat, then set aside to marinate at room temperature for at least 10 minutes, or up to 3 hours in fridge.
Prepare Vegetables:
Trim and discard roots of the spring onion and thinly slice. Halve red capsicum lengthwise, discarding seeds, and thinly slice. Halve cucumber lengthwise and thinly slice lengthwise.
Bake Chicken:
Remove chicken from marinade, allowing excess to drip off. Season both sides with salt and pepper. Place chicken, skin side up on a lined baking tray. Bake for 20 minutes, until skin is crisp and chicken is cooked through.
Cook Soba Noodles:
Meanwhile, bring a large pot of water to a boil over high heat. When water is boiling, add soba noodles and a generous pinch salt. Cook until tender, about 4 minutes. Drain and rinse under cold water.
You Plate It:
In a large bowl, add soba noodles, half the spring onion, red capsicum, cucumber, rice wine vinegar and sesame oil. Toss to combine. Slice chicken to desired thickness. Taste and add salt and pepper as needed. Divide evenly between plates and top with chicken. Garnish with reserved marinade and remaining spring onion. Enjoy!