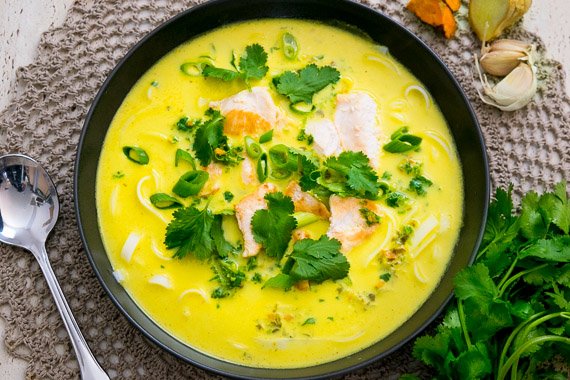 Coconut Chicken Soup with Fresh Turmeric Inspired by Jo Whitton from Quirky Cooking
Prep time:

25

minutes

Calories: 525
Turmeric is part of the ginger family and has been used throughout Southern Asia for thousands of years. Although typically used in its dried, powdered form, for this recipe you will use fresh turmeric together with ginger and garlic. The flavours of fresh turmeric are different to the powder, more subtle, more earthy and the texture is amazing.
Ingredients
1 of Ginger

1 of Turmeric (Fresh)

2 of Garlic Clove

1 Small Bunch of Coriander

2 of Spring Onion

2 Tbsp of Chicken Stock Concentrate

100 g of Rice Noodles (Pad Thai)

3 of Chicken Thighs (skinless)

1 160g Pack of Coconut Milk

1 of Lemon

1 of Pak Choy

1 75g Pack of Baby Spinach
Recipe
Start Soup:
Finely mince
ginger, turmeric
and
garlic
. Finely chop
3⁄4 of the coriander
and
half the spring onions
; mix in a bowl. Place
half the mixture
into a large pot, add
21⁄2 cups water
and
chicken stock concentrate
. Heat to low.
Once simmering
, cover and cook for 10 minutes. Roughly chop green leaves off
pak choy
, thinly slice stems, keeping separate.
Cook Rice Noodles:
Bring water to boil in the kettle. Place
rice noodles
in a large bowl and cover with boiling water. Stir to loosen
noodles,
then allow to soak until tender, about 10 minutes. Set aside.
Brown Chicken:
Pat the
chicken
dry with paper towel. Season both sides with salt and pepper. Add
chicken
to a frypan with oil and place over medium-high heat. Cook, about 3-4 minutes per side or until cooked through. Remove
chicken
from pan and roughly chop into bite-size pieces.
Add Ingredients:
After 10 minutes of simmering (step 1), add
coconut milk
, and about
20 mls lemon juice
(or to taste). Let the temperature reach a
simmer,
add
white pak choy stems
then
add lid
and cook for another 10 minutes.
You Plate It:
To the pot, add cooked
chicken
,
noodles
, a handful of
spinach leaves, green pak choy leaves
,
remaining minced herb/garlic/ginger and turmeric mixture
, then stir through. Season with salt and pepper to taste. Pour into bowls, and garnish with
remaining spring onions
and
remaining coriander
if desired. Enjoy!