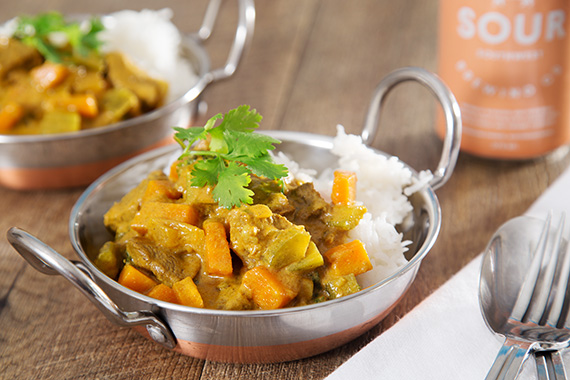 Coconut Lamb Curry with Jasmine Rice
Prep time:

35

minutes

Calories: 450
This curry is a great way to liven up your week - simple, easy and heaps of flavour. It's not at all spicy, so even the kids will love it! If you happen to have any leftovers which we doubt!, it tastes even better the next day. Share your moment on Instagram #youplateit
Ingredients
300 Grams of Diced Lamb Steak

1 Brown Onion

2 Garlic Clove

2 Teaspoons of Lamb Curry Spice Mix

1 Lemon

1 Carrot

1 Stalk of Celery

1 160 Gram Pack of Coconut Milk

1 Tablespoons of Tomato Paste

0.75 Cups of Basmati Rice

1 Small Bunch of Coriander
Recipe
Prepare Ingredients:
Wash the fresh produce. Peel and mince the garlic. Dice ¾ of the onion you don't need the full onion for this recipe. Peel and dice carrot and celery. Pick coriander leaves, discarding stems.
Start Curry:
Pat dry the lamb with paper towel. Heat some oil in a pot over medium high heat. Add the onion, garlic, lamb, tomato paste and spice mix. Cook for 5 minutes, until fragrance is released and meat has started to brown.
Simmer Curry:
Add coconut milk, carrot, celery and ½ cup of water. Stir and bring to a boil. Once boiling, reduce heat and simmer for 20-25 minutes, until carrots are tender. Add coriander leaves reserving some for garnish and a squeeze of lemon juice in the last couple of minutes of cooking.
Cook Rice:
In a pot, bring 1¾ cups water to a boil. Stir in the rice; cover with a lid and reduce the heat to low. Simmer for 15 minutes until all of the water is absorbed. Taste the rice; if it is still too firm, add a few more tablespoons of water. Cover the pot and let the rice absorb the water off of the heat. Fluff the finished rice with a fork.
You Plate It:
Divide rice between bowls and serve curry on top. Garnish with remaining coriander leaves and a small slice of lemon. Enjoy!