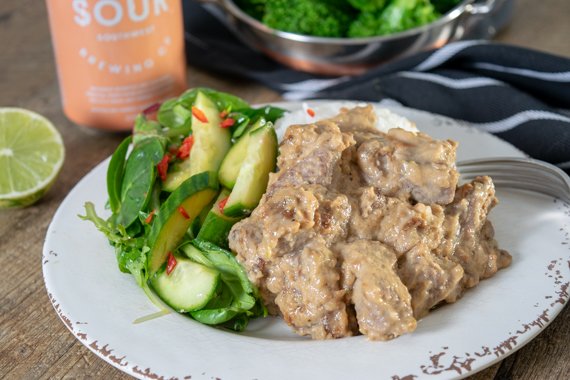 Coconut Satay Beef with Fluffy Rice, Broccoli & Cucumber Salad
Prep time:

30

minutes

Calories: 650
Satay beef is as easy to make as it is easy to love. In this recipe, you will mix your own satay sauce, controlling the lime flavour to your liking. Served with a healthy serve of greens and a punchy little salad, it's an easy midweek meal! Add as much or as little chili as you like to your salad (leaving it out all together for those who prefer less heat). Share the moment #youplateit with us on Instagram and Facebook - we love to share your triumph.
Ingredients
250 Grams of Porterhouse Steak (Thick-Cut)

120 Grams of Peanut Butter & Soy

0.5 Broccoli

1 Lime

1 Ginger

1 160 Gram Pack of Coconut Milk

1 Lebanese Cucumber

1 Garlic Clove

1 Red Chili

1 75 Gram Pack of Mixed Lettuce

1 Tablespoons of Rice Vinegar

0.75 Cups of Basmati Rice
Recipe
Cook Rice:
In a pot, bring 1¾ cups water to a boil. Stir in the rice; cover with a lid and reduce the heat to low. Simmer for 15 minutes until all of the water is absorbed. Taste the rice; if it is still too firm, add a few more tablespoons of water. Cover the pot and let the rice absorb the water off of the heat. Fluff the finished rice with a fork.
Prepare Ingredients:
Wash the fresh produce. Peel and mince the ginger and garlic. Zest the lime and cut in half. Pat dry steak with paper towel and dice into 2 cm cubes. Cut the broccoli into bite size florets. Cut cucumber in half length wise and slice into half moons. De-seed chili (if less heat is preferred) and finely dice. Put a steamer pot of water on to boil to steam broccoli (step 4).
Make Satay Sauce:
In a bowl or jug, combine the peanut butter & soy, coconut milk, ginger, garlic, lime zest (to taste), juice from half the lime and mix well. (TIP: Add more or less lime juice depending on your taste preference). Take ¼ of the satay sauce, coat diced steak and set aside (you will use the rest of the sauce in step 5).
Steam Broccoli & Toss Salad:
Add broccoli florets to steamer pot of boiling water and steam for 3 minutes, until bright green and set aside. In a bowl, combine the rice wine vinegar and 1 TBS of olive oil. Add the cucumber, diced chili (if using) and mixed leaves and toss to coat. Season with salt and pepper as needed. (Tip: Some like it hot but if not, just hold back on the chili).
Cook Beef:
Heat a drizzle of olive oil in a large pan over high heat. Add the satay beef and cook for 3-5 minutes, or until browned and just cooked through. Add the remaining satay sauce and heat through for 1 minute. Remove pan from the heat and season as needed with salt and pepper. (Tip: Add a dash of water if the sauce is too thick. This will help the sauce loosen).
You Plate It:
Divide rice and broccoli between plates and top with satay beef. Serve cucumber and chili salad alongside and garnish with any remaining lime. Enjoy!