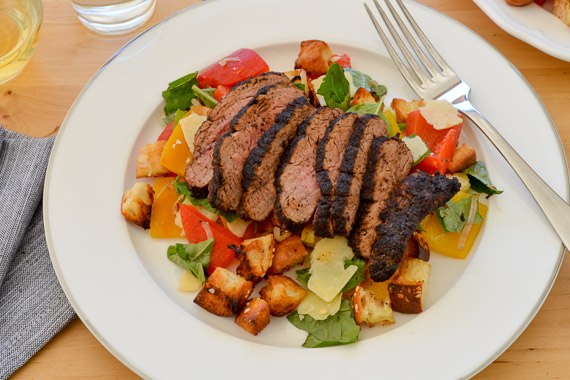 Coffee Rubbed Thick Cut Porterhouse Steak with Roasted Capsicum Panzanella
Prep time: 35
Calories: 790
We love beef and we love coffee, so it was only natural that we combined the two. Fortunately for us, the two ingredients are perfect for each other. The flavours of this dish will benefit from marinating the steak for about 20 minutes, but don't panic, it's not essential. To accompany your steak you will prepare a classic Italian salad called a Panzanella. Traditionally, it is made using day-old bread and chopped tomatoes, we have opted for delicious Carnarvon capsicum. Instagram it #youplateit
Ingredients
350 Grams of Porterhouse Steak (Thick-Cut)

1 Tablespoons of Coffee Steak Spice Mix

1 Focaccia Panini

1 Yellow Capsicum

1 Red Capsicum

1 Shallot

1 Small Bunch of Basil

1 Tablespoons of Red Wine Vinegar

2 Tablespoons of Parmesan (Shaved)
Recipe
Marinate Steak:
Preheat oven to 220°C. Wash the fresh produce. Pat dry steak with paper towel. Season both sides with spice mix, pressing lightly to adhere. Set aside to marinate for at least 20 minutes at room temperature or overnight in fridge.
Roast Capsicums:
Place yellow and red capsicum on a foil-lined baking tray and grill until softened and blackened on outside, about 12 minutes, flipping halfway through. Remove capsicum from baking tray and pour any juice into a small bowl and reserve. Allow capsicum to cool for 5 minutes, then halve lengthwise and discard seeds. Cut into 2-3 cm pieces and set aside.
Prepare Bread:
Reduce oven temperature to 200°C. Peel shallots and thinly slice. Cut panini in half lenthwise, then into 1 cm cubes. Add shallots and turkish bread to the same baking tray, and toss with olive oil, salt, and pepper. Arrange in a single layer and roast until shallots are softened and turkish bread is golden, about 10 minutes.
Make Panzanella:
In a large bowl, whisk together red wine vinegar, reserved juice from capsicum, and 2 tablespoons olive oil. Taste and add salt and pepper as needed. Add roasted capsicum, shallot and panini, toss to coat. Gently stir in basil tearing as you add and shaved parmesan. Set aside.
Cook Steak:
Season steak on both sides with salt. Heat olive oil in a large pan over medium-high heat. When oil is shimmering, add steak and cook 2-3 minutes before flipping. Flip 3 times for a total cooking time of 10-12 minutes or to your preferred doneness. Remove from pan and allow to rest for 5 minutes, then cut against the grain into 1 cm slices.
You Plate It:
Divide panzanella evenly between plates and serve alongside steak. Enjoy!