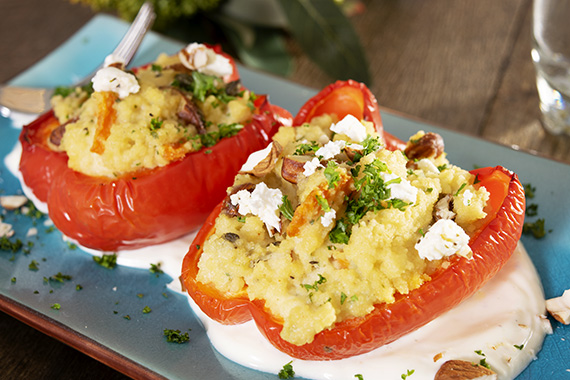 Couscous Stuffed Capsicum with Yoghurt & Tahini
Prep time: 30
Calories: 800
These vibrant stuffed capsicums are loaded with fluffy couscous, sweet carrots and briny fetta and capers - all brought together with a nutty tahini-lemon dressing. You'll be baking the capsicum to deliciously meld their flavours, then serving them over a bright, cooling layer of lemon-seasoned yoghurt. Enjoy!
Ingredients
0.5 Cups of Couscous

2 Red Capsicum (Small)

1 Lemon

1 Carrot

2 Garlic Clove

40 Grams of Fetta Cheese

2 Tablespoons of Baby Capers

30 Grams of Almonds

100 Grams of Greek Yoghurt

2 Tablespoons of Tahini

1 Small Bunch of Flatleaf Parsley

0.5 Teaspoons of Cumin & Smoked Paprika
Recipe
Prepare Capsicums:
Preheat oven to 180°C. Halve capsicums lengthwise, then remove and discard the ribs and seeds. Place capsicums on a lined baking tray and drizzle with olive oil and season with salt and pepper. Arrange cut side up and roast 11 to 13 minutes, or until slightly softened. Leaving the oven on, remove from the oven.
Prepare Couscous:
In the meantime, add the couscous to a bowl and enough boiling water to just cover the couscous, then pop a plate or lid on top and leave to fluff up. Fluff the finished couscous with a fork until well combined. Season with salt and pepper to taste.
Prepare Remaining Ingredients:
Cut carrot in half, then thinly slice crosswise. Roughly chop the almonds. Quarter and deseed the lemon. Peel and finely chop the garlic; using the flat side of your knife, smash until it resembles a paste or use a zester. Pick parsley leaves and roughly chop. To make the dressing, in a large bowl, combine the tahini, the juice of 1 lemon wedge, 2 Tbs water, 1 Tbs olive oil, and as much of the garlic paste as you'd like. Whisk until smooth; season with salt and pepper to taste.
Make Filling:
In a pan, heat olive oil enough to cover the base on medium-high until hot. Add the carrot and cumin & smoked paprika. Cook, stirring occasionally, 3 to 4 minutes, or until lightly browned and slightly softened. Add the capers, chopped almonds reserving some for garnish and cook 1 - 2 minutes. Add to couscous. Add the tahini dressing and fetta crumbling before adding. Season with salt and pepper to taste and stir to combine.
Cook Capsicum:
Using a spoon, tightly pack the couscous filling into the roasted capsicums you may have extra filling. Return to the oven and bake 5 to 6 minutes, or until the capsicums are softened. Remove from the oven and let stand 2 minutes.
You Plate It:
While the capsicums bake, in a bowl, combine the yoghurt and the juice of 2 lemon wedges. Season with salt and pepper to taste. Divide the yoghurt sauce between plates and spread into an even layer. Top with any remaining filling and the stuffed capsicums. Garnish with remaining chopped almonds. Enjoy!