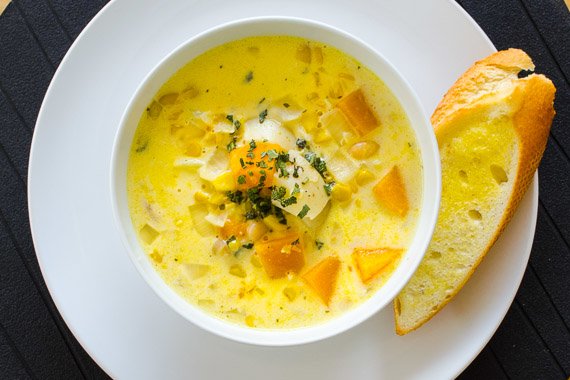 Creamy Corn & Butternut Pumpkin Chowder with Crusty Toasted Bread Roll
Prep time:

40

minutes

Calories: 638
Our Vegetarian Corn and Butternut Chowder is quick to prepare, and every ingredient packs a ton of flavour into this satisfying and filling meal! Fresh corn kernels, diced butternut pumpkin, and onions are first sautéed in butter. Just before serving, some cream is added to make the chowder creamy and satisfying - serve with crusty toasted bread, and enjoy!
Ingredients
2 of Sweet Corn Cob

1⁄2 of Butternut Pumpkin (small)

1 of Brown Onion

200 g of Gourmet Potatoes

1 Small Bunch of Sage

21⁄2 Tbsp of Vege Stock Concentrate

1 Tbsp of Plain Flour

1 of Roma Bread Roll

100 g of Thickened Cream

1 Tbsp of Butter (pantry)
Recipe
Prepare Ingredients:
Preheat oven at 170°C. Remove husks from corn and cut kernels off cob. Cut off and discard pumpkin skin, then cut into 2 cm dice. Peel onion and cut into small dice. Cut potatoes into 2 cm dice then submerge in a small bowl of cold water. Finely chop sage leaves. Drain and rinse cannellini beans.
Cook Vegetables:
Heat butter in a large pot over medium-high heat. When butter is foaming, add corn, onion, and pumpkin. Cook until onions are translucent, about 4 minutes, stirring often.
Thicken Chowder:
Sprinkle flour over vegetables in pan. Stir to combine and cook for 1 minute. Drain potatoes and add to pot. Add cannellini beans, 1 tsp chopped sage, concentrated vegetable stock and 3 cups water. Mix well, season with salt to taste. Increase heat to high and bring to a boil.
Simmer Chowder:
When chowder is boiling, reduce heat to medium and simmer until potatoes and pumpkin are tender, about 12 - 15 minutes. Remove pot from heat and stir in as much of the cream as desired. Taste and add salt and pepper as needed.
Bake Bread:
Meanwhile, slice bread and bake in oven until lightly toasted (about 2 - 3 minutes). Spread with remaining butter.
You Plate It:
Divide chowder into bowls. Garnish with remaining chopped sage and serve with buttered toasted bread on the side. Enjoy!