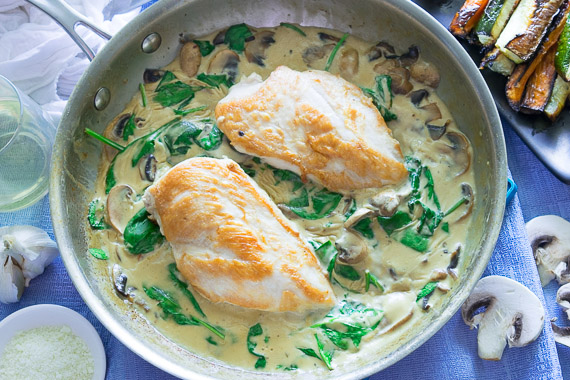 Creamy Parmesan & Garlic Mushroom Chicken with Roasted Carrot and Zucchini
Prep time: 30
Calories: 357
Creamy Parmesan & Garlic Mushroom Chicken is ready in just 35 minutes with parmesan garlic sauce that will wow the entire family! Cooking everything in a single pan is a great way to develop deep flavour whilst keeping it simple. Don't forget to share the moment #youplateit on Facebook or Instagram!
Ingredients
1 Carrot (Large)

1 Zucchini

1 Garlic Clove

200 Grams of Mushrooms

2 Chicken Breast

100 Grams of Thickened Cream

0.5 Tablespoons of Cornflour

0.25 Cups of Parmesan Cheese

1 30 Gram Pack of Concentrated Chicken Stock

1 75 Gram Pack of Baby Spinach
Recipe
Prepare Ingredients:
Preheat oven to 200°C. Wash the fresh produce. Cut the carrots and zucchini into 8 cm long, 1½ cm wide sticks, making sure they are even in thickness. Peel and mince the garlic. Cut mushrooms into 2 mm slices.
Make Carrot & Zucchini Fries:
Place the carrot and zucchini on a lined baking tray you may need to spread over 2 trays. Season lightly with salt, pepper, 1 Tablespoon of parmesan and drizzle with olive oil. Roast, about 20 to 25 minutes, or until tender and browned. Remove from the oven and set aside as you finish cooking.
Cook Chicken:
While still in the vacuum pack, firmly pound the chicken with the smooth side of a meat mallet or rolling pin to a thickness of 1½ cm. Remove and pat dry chicken with paper towel. Heat oil in a large pan on medium heat. Cook 4-5 minutes on each side or until browned and cooked until no longer pink in the centre. Remove and set aside on a plate, covering with foil to keep warm.
Cook Mushrooms:
Add the sliced mushrooms and cook for 3-4 minutes until tender. Remove and set aside mushrooms.
Prepare Sauce:
In the same pan, add the cream, garlic, parmesan, cornflour, concentrated chicken stock and ½ cup of water. Slowly mix into the pan until well combined and the lumps are removed. Simmer, for about 3 to 4 minutes, stirring frequently until thickened, scraping up any bits left at the bottom of the pan. Taste and season with salt and pepper if required.
You Plate It:
Add a few handfuls of spinach and let simmer until it starts to thicken and the spinach wilts. Add the mushrooms to the sauce. Divide the vegetables and chicken with the sauce between plates. Enjoy!