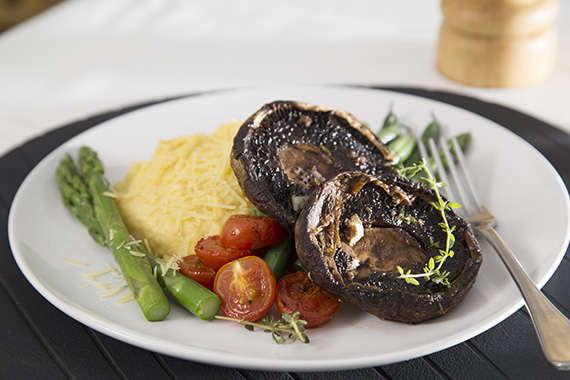 Creamy Polenta with Balsamic Mushrooms Green Beans and Asparagus
Prep time: 20
Calories: 450
This is a wonderfully simple, but delicious meal. The creamy polenta teams beautifully with the roasted mushrooms and balsamic vinegar. Throw in some crunchy, blanched greens and you have yourself a great vegetarian dish. Enjoy!
Ingredients
4 Portobello Mushrooms

1 Garlic Clove

2 Tablespoons of Butter (pantry)

1 Small Bunch of Thyme

120 Grams of Cherry Tomatoes

200 Grams of Green Beans

1 250ml Pack of Chicken Stock

1 Cups of Milk (pantry)

0.25 Cups of Parmesan (Shredded)

90 Grams of Polenta

0.5 Bunch of Asparagus

2 Teaspoons of Balsamic Vinegar
Recipe
Prepare Ingredients:
Preheat oven to 180°C. Wash the fresh produce. Trim the mushrooms stems, and place on an oven tray gill side up with halved tomatoes. Mince garlic, and in a small bowl mix with 1 Tbs olive oil, balsamic vinegar and thyme leaves you only need a large pinch, reserving remainder. Brush over mushrooms and tomatoes. Season with salt and pepper and some sprigs of thyme. Cook for 20 minutes, until mushrooms are tender.
Prepare Green Vegetables:
Trim the ends off both the beans, and woody ends of the asparagus. Set aside for blanching in step 5.
Boil Stock:
With 10 minutes remaining on mushrooms cooking time, bring chicken stock with ½ cup of water and milk to the boil. Put another medium sized pot of water on to boil for blanching the greens.
Cook Polenta:
Once stock and milk have come to the boil, reduce heat down low and add polenta in a steady stream, stirring continually. Cook polenta for 6 minutes, stirring regularly. As the polenta thickens add butter and parmesan reserving some for garnish to finish.
Blanche Greens:
While polenta is cooking, blanche beans and asparagus in boiling water for 3 minutes or to desired degree of doneness. Drain well and drizzle with a little oil, season with salt and pepper.
You Plate It:
Divide polenta, blanched greens, balsamic mushrooms and tomatoes between plates. Garnish with remaining thyme. Enjoy!