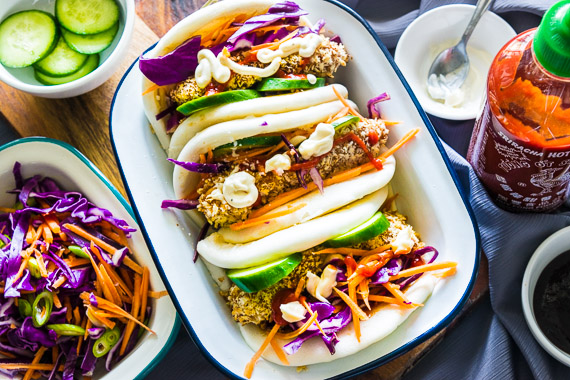 Crispy Chicken Bao Buns with Asian Slaw
Prep time: 25
Calories: 670
A long time Chinese favourite, bao are steamed buns that are usually filled with succulent meat. In this recipe, crispy chicken and Korean style bao helps to create tasty sliders. Steaming the buns gives them an irresistible soft bite which contrasts the crunchy cucumber. A colourful slaw provides a healthy addition to this dinner. Enjoy #youplateit.
Ingredients
0.33 Cups of Hoisin

3 Tablespoons of Soy Sauce

3 Tablespoons of Sriracha Sauce

3 Chicken Thighs (skinless)

1 Cups of Panko Bread Crumbs

2 3 Gram Pack of Sugar

0.33 Cups of Rice Vinegar

1 Lebanese Cucumber

5 Large Bao Bun

1 300 Gram Pack of Asian Slaw

3 Tablespoons of Mayonnaise
Recipe
Crumb Chicken:
Preheat oven to 200°C. In a large bowl mix 2 Tbs hoisin, 2 tsp soy sauce and 2 tsp sriracha depending on how hot you like, add a little and taste marinade. Slice chicken into 2 cm strips and place into bowl with marinade. Place panko in another bowl and line a tray with baking paper. Working a few at a time, put chicken strips into panko, press to make stick and then place on tray. Once oven is hot, bake for 12 minutes.
Pickle Cucumber:
In medium bowl mix sugar, ½ tsp salt, 2 Tbs rice vinegar. Thinly slice cucumber, add to bowl and combine.
Dress Coleslaw:
In a large bowl mix 2 Tbs oil, remaining rice vinegar, soy, 2 tsp hoisin and a pinch of salt to make dressing. Add Asian slaw and mix.
Warm Buns:
Remove paper backing from bao buns. Place 3 buns at a time on a large plate, cover with cling film and microwave for 1 minute. Repeat with remaining buns.
You Plate It:
Spread a little hoisin and mayonnaise onto each bun. Divide chicken between buns. Add 2 slices of cucumber, a spoon full of slaw and a drizzle of sriracha. Serve with remaining slaw on the side. Enjoy!