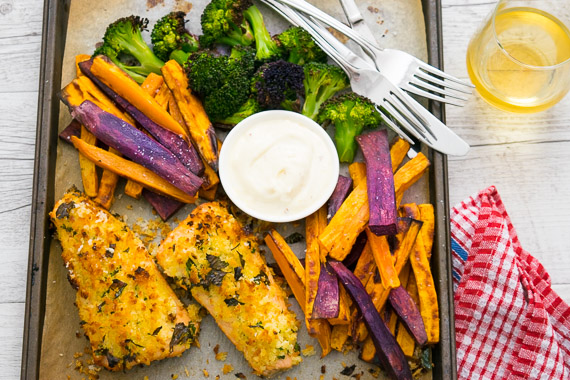 Crumbed Salmon with Sweet Potato Fries, Seriously Good Garlic Aioli & Roasted Broccoli
Prep time:

30

minutes

Calories: 780
Salmon is a fantastic fish to use in the oven. Here, you will prepare a crust with a combination of panko, butter and parsley. The crust will help protect the fish and keep it moist, with the combination of butter and panko providing a delicious crunchy texture. Happy cooking!
Ingredients
400 Grams of Sweet Potato (Small)

2 Purple Carrot

0.5 Cups of Panko Bread Crumbs

1 Small Bunch of Flatleaf Parsley

2 Salmon Fillets (Skinless)

4 Tablespoons of Garlic Aioli

1 Broccoli (small)

3 Tablespoons of Butter (pantry)
Recipe
Roast Sweet Potato:
Preheat the oven to 220°C. Peel and cut the sweet potato into 1 cm thick sticks. Season with salt, pepper and a drizzle of olive oil. Toss to thoroughly coat. Place evenly on a lined baking tray. Add to top shelf in the oven and roast, about 20 to 22 minutes, or until tender and browned.
Make Crust:
Roughly chop parsley leaves, discarding stems. In a bowl, microwave butter in 15-second intervals until completely melted. Add chopped parsley, panko bread crumbs, salt and pepper. Mix to combine.
Prepare Salmon:
Pat dry salmon with paper towel and season with salt. Line a baking tray with baking paper and lightly oil half. Place the salmon on the oiled half. Top with the breadcrumb mixture.
Cook Broccoli:
Cut the florets off the Broccoli. Add to the same lined baking tray as the salmon. Roast salmon and broccoli for 10 to 12 minutes or until golden and cooked to your liking.
You Plate It:
Serve crumbed salmon with Broccoli, sweet potato fries and seriously good garlic aioli on the side. Enjoy!