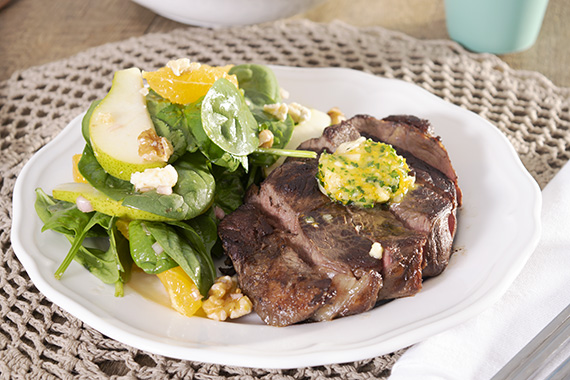 Delicious Steak with Compound Butter with Orange & Pear Gorgonzola Salad
Prep time: 20
Calories: 800
For this recipe you will need butter from your pantry! Here, you will quickly and easily prepare a compound butter, a time honoured European tradition. You will prepare a compound butter with aromatics, herbs, and orange zest for added flavour. It is an amazing way to enhance the natural flavours of a dish. Enjoy the flavours with a fresh salad and delicious steak. Happy cooking!
Ingredients
1 Shallot

1 Garlic Clove

1 Small Bunch of Flatleaf Parsley

1 Orange

1 150 Gram Pack of Baby Spinach

1 Pear

1 Tablespoons of Red Wine Vinegar

350 Grams of Porterhouse Steak (Thick-Cut)

60 Grams of Gorgonzola

0.25 Cups of Walnuts

4 Tablespoons of Butter (pantry)
Recipe
Prepare Ingredients:
Set butter aside to soften. Wash the fresh produce. Peel and mince shallot and garlic. Roughly chop parsley leaves, discarding stems. Zest orange, peel and segment orange flesh into evenly sized wedges. Halve pear lengthwise, discarding core and slice into evenly sized wedges.
Make Compound Butter:
In a medium bowl, combine butter with garlic, parsley, orange zest and half the minced shallot. Season with salt and pepper. Place butter mixture on a piece of plastic wrap and roll into a log, twisting ends to seal tightly. Chill in freezer until ready to serve.
Make Vinaigrette:
In a small bowl, whisk together remaining shallot, red wine vinegar and 2 Tbs olive oil. Taste and add salt and pepper as needed. Set aside.
Cook Steak:
Pat steak dry with paper towel. Season steak on both sides with salt. Heat olive oil enough to coat the pan in a large pan over medium-high heat. When oil is shimmering, add steak and cook 2-3 minutes before flipping. Flip 3 times for a total cooking time of 10-12 minutes or to your preferred doneness. Remove from pan and allow to rest.
Make Salad:
In a large bowl, combine spinach, pear, orange, gorgonzola, and walnuts. Add vinaigrette and toss to coat.
You Plate It:
Cut steak into ½ cm slices against the grain. Remove compound butter from plastic wrap and cut x2, ½ cm disks from log. Divide steak between plates, top each with a butter disk, and serve with salad alongside. Enjoy!