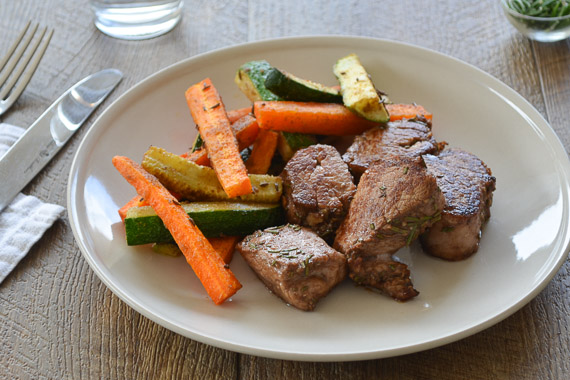 Dijon Pork Medallions with Roasted Carrot and Zucchini Fries
Prep time:

40

minutes

Calories: 560
After a busy day at work, this recipe is a quick and healthy dinner. Pork tenderloin has less fat than snapper or beef and is an excellent source of protein, thiamin, and niacin. Roasting vegetables is fast and simple, plus it helps to develop nutrients in carrot and zucchini. Cooking tip: When you sear the pork, turning it only a few times will ensure that it has enough contact with the pan to develop a crust.
Ingredients
2 Garlic Clove

2 Stalk of Rosemary

1 Zucchini

3 Carrot

340 Grams of Pork Tenderloin

3 Teaspoons of Dijon Mustard

3 Tablespoons of Balsamic Vinegar

2 Teaspoons of Mediterranean Spice Mix
Recipe
Prepare Ingredients:
Preheat oven to 200°C. Wash the fresh produce. Peel and mince garlic. Pick rosemary leaves and roughly chop, discarding stems. Cut the carrots and zucchini into 8 cm long, 2 cm wide wedges, making sure they are even in thickness. Pat dry pork with paper towel. Cut pork crosswise into 2-3 cm medallions.
Prepare Marinade:
In a large resealable plastic bag, combine mustard, balsamic vinegar, garlic, rosemary, and 1 tablespoon olive oil. Add pork to bag and shake to coat. Set aside to marinate at room temperature for at least 10 minutes, up to 2 hours.
Make Carrot & Zucchini Fries:
Place the carrots and zucchini on a lined baking tray. Season with salt, pepper and as much spice mix as you like. Drizzle with olive oil and toss to thoroughly coat. Roast, stirring halfway through, 18 to 20 minutes, or until tender and browned. Remove from the oven and set aside as you finish cooking.
Cook Pork:
After about 10 minutes, remove pork from marinade, allowing excess to drip off. Season both sides with salt and pepper. Heat olive oil in a large pan over medium heat. When oil is shimmering, add pork and cook until browned on outside and cooked through, about 3 minutes per side.
You Plate It:
Divide pork and roasted carrot and zucchini fries evenly between plates. Enjoy!