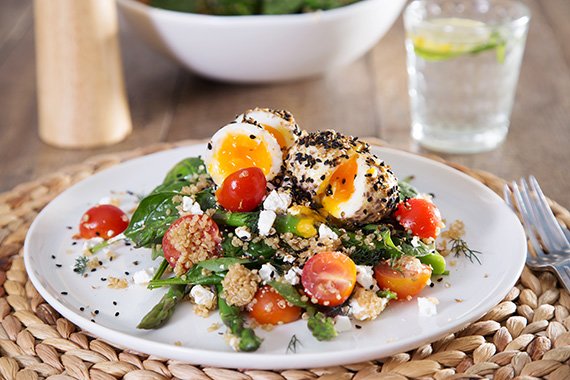 Dukkah Crusted Free Range Eggs with Quinoa, Asparagus, Fetta & Dill Salad
Prep time:

25

minutes

Calories: 515
The locally made dukkah from Sticky Fingers is a deliciously, fragrant mixture of ground, roasted nuts and seeds. In this recipe you'll coat a soft boiled egg in this deliciousness to add texture and flavour to a healthy salad of quinoa, asparagus and cherry tomatoes. Vegetarian and gluten free, it's a simple and quick mid week dinner. Share the moment #youplateit with us on Instagram and Facebook.
Ingredients
4 Free Range Eggs

30 Grams of Dukkah

150 Grams of Asparagus

150 Grams of Cherry Tomatoes

1 75 Gram Pack of Baby Spinach

1 Small Bunch of Dill

60 Grams of Danish Fetta

0.5 Cups of White Quinoa

2 Teaspoons of Vege Stock Concentrate
Recipe
Cook Quinoa:
Place quinoa into fine sieve/colander and rinse well under cold water. Place quinoa in a pot with vege stock concentrate, 1 cup of water and bring to the boil. Reduce heat and simmer for about 15 minutes or until all liquid has been soaked up and quinoa is tender and fluffy.
Soft Boil Eggs:
Bring a pot of water up to a boil, then lower it to a rapid simmer. Using a slotted spoon, add the eggs to the pot, and then begin timing. Five minutes is perfect for a runny yolk, or cook as long as 7 minutes for a more firmly set yolk (cook to your taste). Remove eggs with slotted spoon and place into a bowl of iced water to prevent the yolk over cooking. Keep pot of boiling water on stovetop (for blanching asparagus in step 4).
Prepare Remaining Ingredients:
Wash the fresh produce. Trim woody ends off asparagus. Cut cherry tomatoes in half. Pick dill leaves, discarding stalks.
Blanche Asparagus:
Add asparagus to the pot of boiling water and cook for 2 minutes, until bright green. Drain and refresh in cold water.
Peel Eggs & Dukkah Coat:
Peel soft boiled eggs. Place dukkah on a plate and roll eggs through dukkah to coat. Season with salt and pepper as needed.
You Plate It:
In a large bowl add cooked quinoa, asparagus, baby spinach, tomatoes, fetta (crumbling as you add) and dill. Toss well to combine, seasoning with salt and pepper as needed. Divide salad between plates. Top salad with halved dukkah crusted eggs, using the runny yolk to meld all those flavours. Garnish with any remaining dukkah and enjoy!