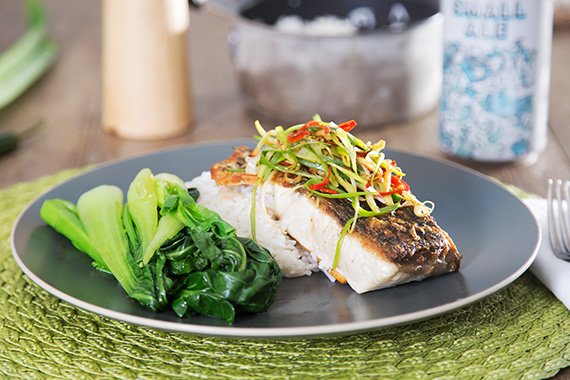 Fish with Sizzled Ginger, Chili & Garlic, Asian Greens & Coconut Rice
Prep time:

25

minutes

Calories: 410
The aromas you'll release when sizzling ginger, garlic, and chili will have the whole house licking their lips in anticipation. A smooth coconut rice will balance the intense aromatic flavours and the result is ideal for a light fish. We've left the skin on to add a little texture to the meal. Happy cooking. #youplateit
Ingredients
0.75 Cups of Jasmine Rice

1 160 Gram Pack of Coconut Milk

1 Ginger

2 Garlic Clove

1 Red Chili

2 Spring Onion

2 Barramundi Fillets (Skin On)

2 5 Gram Pack of Soy Sauce

0.5 Bunch of Chinese Broccoli

1 Pak Choy
Recipe
Make Coconut Rice:
In a medium pot, combine the rice, a big pinch of salt, 1 cup of water and coconut milk. Stir to combine, then heat to boiling on high. Once boiling, cover with a lid and reduce the heat to low. Simmer 11 to 12 minutes, or until the liquid has been absorbed and the rice is tender. Fluff the finished rice with a fork. Remove from heat and set aside in a warm place.
Prepare Ingredients:
Wash the fresh produce. Peel and cut ginger into matchsticks. Peel and thinly slice garlic. Thinly slice red chili. Thinly slice spring onion long ways into 5-7 cm long pieces. Trim ends off pak choy and chinese broccoli. Slice pak choy lengthways into quarters. Pat dry the fish with paper towel. Season with salt and pepper, then cut the skin of each fillet 3 times. Place a pot of salted water on stove top to boil.
Cook Fish:
Heat a heavy-based frying pan and add 1 Tablespoon sunflower oil. Once hot, fry the fish, skin-side down. Cook for 5 minutes or until the skin is very crisp and golden. (Tip: be careful not to get the pan too hot.) The fish will be almost cooked through. Turn over, cook for another 4 to 5 minutes until cooked through. (Note: Cooking time will depend on thickness of fish). Transfer to a serving plate and keep warm.
Sizzle Ginger, Chili & Spring Onions:
Heat ½ TBS sunflower oil in the same pan, then fry the ginger, garlic and chilies for about 2 minutes until golden. Take off the heat and toss in the spring onions, cook for 2 minutes.
Cook Greens:
Add pak choy and chinese broccoli to the pot of boiling water, boil till cooked through and bright green, about 1-2 minutes. Drain greens and season with salt and pepper, toss with a dash of soy sauce and little oil if desired.
You Plate It:
Splash the fish with soy sauce (to taste) and spoon over the contents of the pan, then divide between plates. Serve with coconut rice and steamed greens. Enjoy!