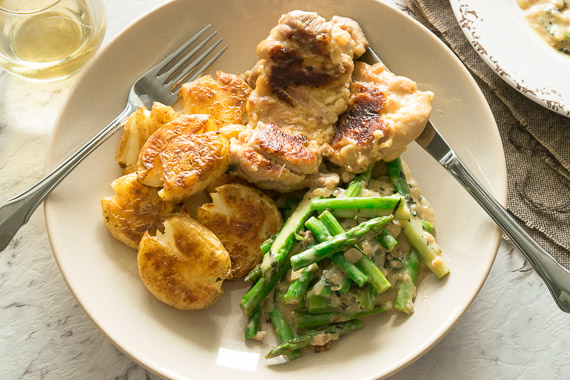 Flambéed Chicken with Asparagus & Smashed Potatoes
Prep time: 40
Calories: 565
Flambé means 'flamed' in French and is a classical technique of adding quality alcohol and creating a burst of flames. By partially burning off the volatile alcohol, flambéing reduces the alcoholic content of the dish while keeping the flavours of the liquor. For this recipe you will use a little brandy. Watch the flavours burst into life and share it on Facebook or Instagram #youplateit
Ingredients
500 Grams of Chat Potatoes

3 Chicken Thighs (skinless)

1 Tablespoons of Plain Flour

2 Shallot

2 Tablespoons of Brandy

1 250ml Pack of Chicken Stock

1 Bunch of Asparagus

2 Tablespoons of Sour Cream

1 Small Bunch of Tarragon
Recipe
Prepare Smashed Potatoes:
Preheat oven to 220°C. Prick a hole into each potato and steam until softish but not extremely soft. We cooked them in a covered bowl in the microwave on HIGH with an inch of water for 8 minutes. Once steamed, drain the potatoes and add to a lined baking tray. Using a potato masher, gently push down onto the potatoes so that they collapse but still keep their shape at the bottom. Drizzle with oil, season with salt, then bake in the oven for 20 minutes until the potatoes are golden and the bottoms are crispy.
Sear Chicken:
Pat dry the chicken with paper towel. Dust the chicken with the flour. Heat oil and butter in a large pan with a lid. Tip: If you don't have a pan that has a lid, we just used foil and a lid from a pot, that's roughly the same size. Add the chicken, fry until nicely browned, about 3 minutes each side. Note: the chicken doesn't need to be cooked through at this stage.
Flambé Chicken:
In the meantime, small dice the shallot. Add shallot, then fry for about 2 minutes until they start to soften, but not colour. Pour in the brandy, carefully ignite, then stand well back until the flames have died down.
Add & Reduce Stock:
Stir in the stock and bring to the boil. Reduce heat, cover with lid, then cook for 15 minutes until the chicken is just tender.
Add Asparagus:
Cut the woody ends off the asparagus, then cut into 4 cm pieces. Add the asparagus to the sauce. Cover with lid, then cook for 5 minutes more until tender.
You Plate It:
Stir in the sour cream and tarragon and warm through. Season to taste. Divide between plates, serve with smashed potatoes on the side. Enjoy!