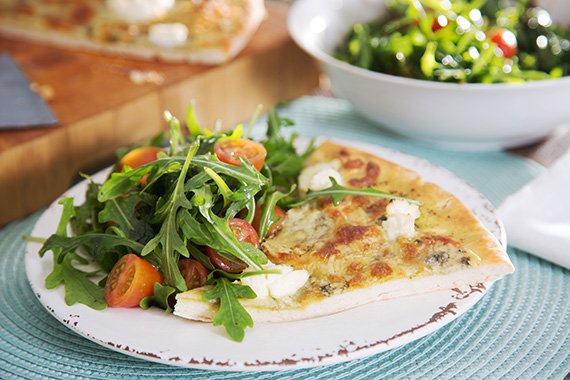 Four Cheese Pizza with Blue Cheese & Side Salad with Roast Garlic Vinaigrette
Prep time:

20

minutes

Calories: 550
What's better than a cheesy pizza… A pizza with FOUR cheeses! Served with a fresh tomato, rocket and baby spinach salad, this dish really hits the spot. A roasted garlic vinaigrette finishes it all off beautifully. We think this pairs perfectly with a crisp lager - go on, treat yourself! Share the moment #youplateit with us on Instagram.
Ingredients
1 Pizza Base

2 Garlic Clove

50 Grams of Mozzarella (Grated)

20 Grams of Blue Cheese

25 Grams of Parmesan (Shaved)

150 Grams of Cherry Tomatoes

2 Tablespoons of Pesto

2 Teaspoons of Balsamic Vinegar

50 Grams of Ricotta (Firm)

1 75 Gram Pack of Rocket & Baby Spinach
Recipe
Roast Garlic:
Preheat oven to 220°C. Wash the fresh produce. Place whole peeled garlic cloves on a small piece of foil, drizzle with 2 tsp olive oil, and season with a pinch of salt. Bring edges of foil together and seal to form a pouch. Place garlic pouch in oven and roast until garlic is tender, 7 minutes. Remove from oven and carefully open garlic pouch to allow steam to escape and set aside to cool.
Prepare & Bake Pizza:
Place pizza base on a lined baking tray and spread pesto on top, leaving a small border. Scatter over ricotta, mozzarella, parmesan and blue cheese. Bake until pizza crust is crisp, lightly golden and cheese is bubbling, 10 -12 minutes.
Make Vinaigrette:
(TIP: make vinaigrette in a bowl big enough to add your salad to, reducing double handling). Place roasted garlic in a bowl and mash with a fork until smooth. Whisk in balsamic vinegar, 1 TBS olive oil (extra virgin if you have it), salt and pepper as desired.
Dress Salad:
Halve cherry tomatoes and add, along with salad leaves to bowl with vinaigrette and toss to combine.
You Plate It:
Remove pizza from oven, slice and serve immediately with salad on the side or piled on top. Enjoy!