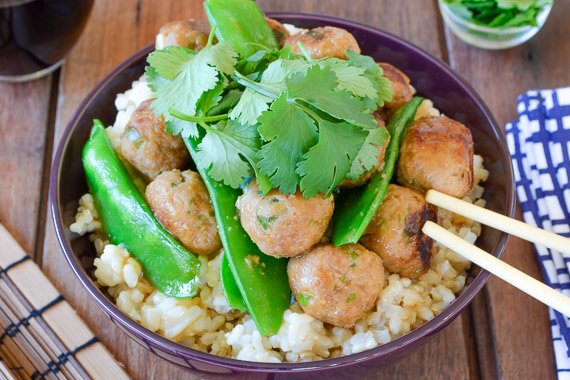 Glazed Mini Pork Meatballs & Snow Peas over Brown Rice
Prep time:

30

minutes

Calories: 695
Snow peas are unique because they have edible pods that lack the inedible tissue of their sister peas. Snow peas are best when they still have a little crunch, so in this recipe you will add them in the final step to warm through. This recipe is inspired by South East Asia where the flavours of spring onion, coriander, ginger and lemongrass make for a delicious dinner. Enjoy with a serve of healthy Australian brown rice and don't forget to share the love #youplateit
Ingredients
0.75 Cups of Brown Rice

130 Grams of Snow Peas

2 Garlic Clove

2 Spring Onion

1 Small Bunch of Coriander

1 Ginger

1 Tablespoons of Minced Lemongrass

300 Grams of Pork Mince

3 Tablespoons of YPI Mirin & Miso Paste (2:1)

1 Teaspoons of Cornflour

1 Tablespoons of Sesame Oil

3 5 Gram Pack of Soy Sauce

1 Carrot
Recipe
Cook Rice:
In a medium pot, combine the rice, a big pinch of salt and 1½ cups of water. Heat to boiling on high. Once boiling, cover with a lid and reduce the heat to low. Simmer 28 to 30 minutes, or until the water has been absorbed and the rice is tender. Remove from heat and set aside, with a lid on or covered in a warm place.
Prepare Ingredients:
Wash the fresh produce. Trim off the stems of the snow peas and peel away their strings. Thinly slice the spring onions. Peel and halve carrot lengthways and thinly slice into 2-3 mm half moons. Peel and mince the garlic and ginger. Very finely chop the coriander stems and roughly chop the leaves. (NOTE: We had a suggestion from a customer to add in some more veg on this recipe, so we listened. That's why you don't see any carrot in the pic 😉 )
Form Meatballs:
In a bowl, combine the pork, coriander stems, ginger, lemongrass, half the garlic, half the spring onions, and half the sesame oil & 1 sachet of soy sauce. Use your hands to gently mix until everything is combined. Form the mixture into tablespoon-sized meatballs.
Cook Meatballs:
In a large pan, heat oil on medium until hot. Add the meatballs and cook 8 to 10 minutes, turning to ensure they brown on all sides.
Make Glaze:
While the meatballs cook, make the glaze. In a small bowl, combine the mirin, miso paste, cornflour, remaining sesame oil and remaining soy sauce, and ¼ cup of water. Whisk until smooth.
You Plate It:
To the pan, add the remaining spring onions, remaining garlic and carrot. Cook about 2 minutes or until fragrant, stirring. Add the snow peas and glaze. Cook about 1 more minute until the sauce thickens. Remove from the heat. Divide the rice between plates, top with the meatballs, snow peas and carrot. Garnish with coriander leaves. Enjoy!