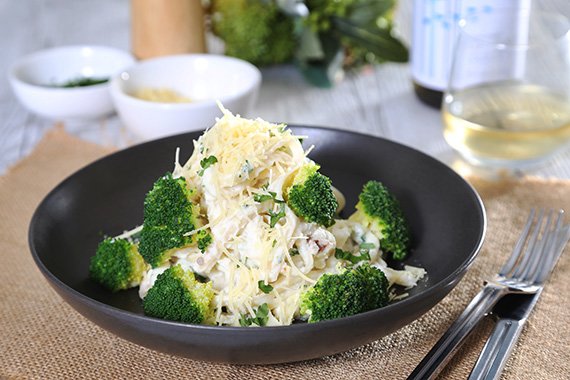 Gluten Free Fettucine Alfredo with Cauliflower & Sun Dried Tomatoes
Prep time:

30

minutes

Calories: 530
A healthier version of fettucine Alfredo with a blend of cauliflower and cashews. Cooked and pureed cauliflower creates a perfect light and silky base while cashews add richness and creaminess. With just a little parmesan added, it's a great way to add some sneaky veg! Share the moment #youplateit with us on Instagram and Facebook.
Ingredients
40 Grams of Parmesan (Shredded)

180 Grams of Gluten Free Fettucine

0.5 Cauliflower (small)

30 Grams of Cashew Nut Pieces

0.5 Broccoli

0.75 Cups of Milk (pantry)

1 Brown Onion

2 Garlic Clove

20 Grams of Sundried Tomatoes Pieces

1 Small Bunch of Flatleaf Parsley
Recipe
Prepare Ingredients:
Wash the fresh produce. Keeping them separate, cut cauliflower and broccoli into bite size florets. Peel and small dice ¾ of the onion (you will have left over). Peel and mince garlic. Pick parsley leaves and roughly chop, discarding stems. Place a pot of salted water on to boil for cooking the fettucine in step 3.
Start 'Alfredo' Sauce:
In a pot, heat up enough olive oil to cover the base. Add the diced onion and garlic. Sauté 3 - 4 minutes, until softened and fragrant but not browned. Add the cauliflower florets, cashews, milk, cover and bring to a boil. Cook for 5 - 7 minutes or until the cauliflower becomes tender.
Cook Pasta:
Add fettucine to the pot of boiling water, and cook 7 - 9 minutes, or until al dente (still slightly firm to the bite). Add broccoli florets to the same pot in the last 3 minutes of pasta cooking time. Drain well and return pasta to the pot.
Finish Sauce:
In a food processor, add the "sauce" together with parmesan, salt and pepper. Blend until smooth. (TIP: if you don't have a food processor, you can use a stick blender. Just be careful, it will be hot!)
You Plate It:
Add cauliflower sauce and sun dried tomatoes to the pot of drained pasta. Check seasoning and adjust if necessary. Serve broccoli on the side (or mixed in with the pasta - it is up to you) and garnish with chopped parsley. Serve with freshly cracked blacked pepper. Enjoy!