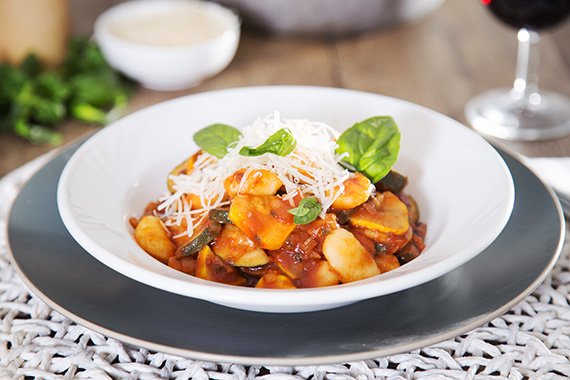 Gnocchi with Spring Veg & Tomato Sugo, Fresh Basil & Parmesan
Prep time:

25

minutes

Calories: 760
Gnocchi is an Italian soft dough dumpling that can be made from a variety of different ingredients. In Australia, gnocchi is most commonly made from potato, but in Italy, other ingredients such as semolina, wheat flour, cheese, or breadcrumbs are very common. We're serving it up with a veggie packed tomato sauce and parmesan.
Ingredients
1 of Shallot

2 of Garlic Clove

120 g of Squash

1 of Zucchini

1⁄2 Cup of Red Wine

50 g of Parmesan (Shredded)

2 Tsp of Brown Sugar

1 Small Bunch of Basil

3 Tbsp of Panko Bread Crumbs
Recipe
Prepare Ingredients:
Peel and dice shallot. Peel and thinly slice the garlic. Thinly slice the zucchini and squash into half moons, 2-3mm thick. Pick the leaves off the basil, roughly chop and reserve a few leaves for garnish. Bring a large pot of water to a boil. (TIP: If you want your veg to 'blend' in - you can grate the zucchini and squash, or even blitz it in a food processor).
Start Sauce:
In a large pan (or pot), heat olive oil on medium heat. Add the shallot and garlic. Cook for about 2 to 3 minutes, stirring occasionally. Add the zucchini and squash, cook for 4 minutes more, until it starts to soften.
Simmer Sauce:
Add the red wine, tomato sauce with basil, brown sugar (to taste), chopped basil and give it all a good stir and reduce to simmer. Simmer until vegetables are tender, stirring occasionally, about 6-8 minutes. Season with salt and pepper to taste. While sauce is simmering, heat olive oil (enough to cover base) in a small pan over medium heat. Add bread crumbs and toast until golden, about 2 minutes. Season with salt and pepper to taste. Set toasted bread crumbs aside on paper towel to cool.
Cook Gnocchi:
Add gnocchi to boiling water (cooking in batches if required). Cook for about 3 minutes or until tender. Use a slotted spoon to carefully remove from the boiling water.
You Plate It:
Add the cooked gnocchi to the sauce and combine well. Divide between plates. Serve with toasted bread crumbs and parmesan and garnish with reserved basil leaves. Enjoy!