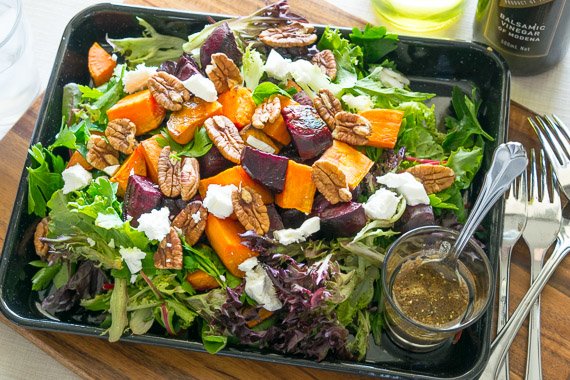 Goat Cheese & Roast Vegetable Salad, with Toasted Pecan & Balsamic Dijon Vinaigrette
Prep time:

30

minutes

Calories: 500
Cooking tip: old jam jars are perfect for combining salad dressings. Place all the ingredients into the jar, tighten the lid and shake vigorously to combine. Goat cheese, like goat milk, is easier on the human digestive system and lower in calories, cholesterol and fat than its bovine counterpart. In addition, goat milk cheese is a great source of calcium, protein, vitamin A and thiamin.
Ingredients
400 Grams of Sweet Potato (small)

250 Grams of Baby Red Beetroot

50 Grams of Pecans

1 Tablespoons of Balsamic Vinegar

1 Teaspoons of Dijon Mustard

1 75 Gram Pack of Mixed Lettuce

1 Small Bunch of Flatleaf Parsley

50 Grams of Soft Goat Cheese
Recipe
Roast Vegetables:
Preheat the oven to 220°C. Line 2 trays with baking paper. Wash the fresh produce. Peel the sweet potato and beetroot, cut into medium dice, about 1½ cm pieces. Drizzle with olive oil and season with salt and pepper. Place on a lined baking tray and add to top shelf in the oven. Roast for 18-20 minutes, or until tender.
Prepare Vinaigrette:
In the meantime, combine 1 TBS olive oil (extra virgin if you have it), balsamic vinegar and Dijon mustard in a small jug or bowl. Mix well. Season to taste with salt and pepper.
Toast Pecans:
Place the pecans on the second lined tray in an even layer. Add to the oven in the final 2 minutes of the vegetable cooking time, or until toasted. (Tip: Be careful not to burn).
Prepare Salad:
Pick the parsley leaves, discarding stems. Add the mixed lettuces to a large bowl or serving tray. Add roast vegetables and parsley. Drizzle with as much of the dressing as desired. Toss to coat well.
You Plate It:
Divide the salad between plates. Top with toasted pecans and goat cheese (crumbling as you add). Enjoy!