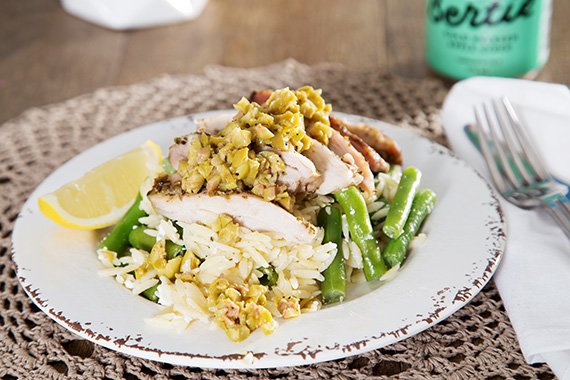 Greek Style Chicken with Risoni & Green Olive Tapenade
Prep time:

30

minutes

Calories: 720
The simple addition of some oregano and lemon transform this chicken, and gives it a great Greek flavour. Add a topping of tapenade—a briny, punchy paste made with green olives. For a simple, flavourful side, you'll serve your pasta with some crunchy green beans, asparagus and smooth fetta - Delish!
Ingredients
3 Chicken Thighs (skinless)

150 Grams of Green Beans

180 Grams of Risoni

50 Grams of Danish Fetta

1 Lemon

1 Teaspoons of Dried Oregano

50 Grams of Green Olives (pitted)

1 Garlic Clove

3 Tablespoons of Sour Cream

150 Grams of Asparagus
Recipe
Prepare Chicken:
Preheat oven to 180°C. Bring a pot of salted water to the boil. Pat dry chicken with paper towel and place in an ovenproof dish. Sprinkle over oregano. Season with salt, pepper and a little olive oil. Cook in the oven for 20 - 25 minutes.
Cook Risoni & Greens:
Top and tail the green beans and cut in half. Cut woody ends off the asparagus (discarding ends) and cut into 3 cm pieces. When the water is boiling, add the risoni and cook 7 - 9 minutes, or until al dente (still slightly firm to the bite). After 3 minutes, add the green beans and asparagus. Once cooked to your liking, drain pasta and greens thoroughly and return to the pot. Drizzle with a little olive oil (to prevent sticking together) and cover to keep warm. (NOTE: We had a suggestion from a customer to add in some more greens on this recipe, so we listened. That's why you don't see any asparagus in the pic 😉 ).
Prepare Tapenade:
Zest the lemon, reserve lemon for dressing the cooked chicken. Finely chop the olives. Peel and finely chop the garlic; using the flat side of your knife, smash until it resembles a paste (or use a zester). To make the tapenade, in a bowl, combine the chopped olives, lemon zest, 1 TBS of olive oil, and as much of the garlic as you'd like. Season with salt and pepper to taste.
Mix Pasta:
Add sour cream and crumbled fetta to the risoni, asparagus and beans. Season with salt and pepper. Reheat for a couple of minutes if needed.
You Plate It:
Squeeze some lemon juice over the cooked chicken and slice. Divide risoni between plates. Top with sliced chicken and olive tapenade - Enjoy!