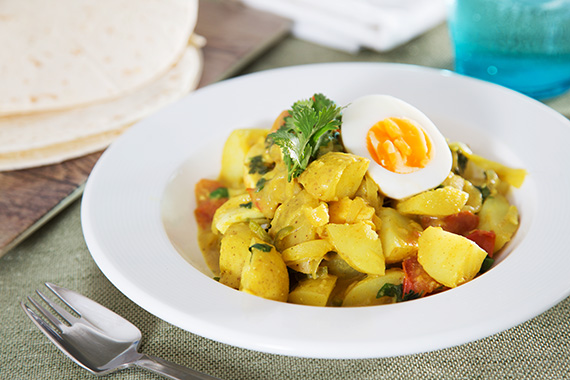 Green Masala Eggs & Potatoes with Chapati
Prep time: 30
Calories: 650
Masala' basically means spice mix so we could also call it spiced eggs. In this recipe, you'll use a spice mix of garam masala, chili powder and turmeric. Combined with creamy coconut milk and fresh coriander, garlic and ginger, this masala sauce is delightful with some boiled eggs. Use you chapati to mop up the sauce, we doubt there will be any leftovers!
Ingredients
3 Egg (pantry)

1 Brown Onion

1 Ginger

1 Small Bunch of Coriander

400 Grams of Potatoes (Select)

1 Tablespoons of Mango Chutney

1 160 Gram Pack of Coconut Milk

1 Green Chili

2 Teaspoons of Masala Egg Spice Mix

1 Tomato

1 Garlic Clove

1 6-Pack of Chapatis
Recipe
Boil Potatoes & Eggs:
Wash the fresh produce. Cut potatoes in 2-3 cm pieces and cover with water in a pot. Bring to the boil over high heat. Once water is boiling, gently lower in eggs and cook for 6 minutes. Drain potatoes and place eggs into iced water to cool.
Prepare Ingredients:
Dice half the onion you will have remainder. Mince garlic and ginger, and finely slice the green chili removing seeds for less heat if preferred. Dice tomato and pick coriander leaves, discarding stems.
Simmer Sauce:
Heat a little oil in a deep pan or pot and cook onions, ginger and garlic until soft, about 4 minutes. Add the spice mix and cook until fragrant, 1-2 minutes. Add in the coconut milk, tomatoes and potatoes and bring to a simmer for 10 minutes.
Add Eggs:
Once eggs have cooled, peel and cut into quarters reserving a couple of pieces for garnish. Add eggs, chutney and some coriander reserving some leaves for garnish and stir to combine.
You Plate It:
Prepare the chapatis we heated ours up in the microwave on high for 30 seconds. Divide egg masala between bowls and serve with chapati on the side. Garnish with remaining egg and coriander leaves. Enjoy!