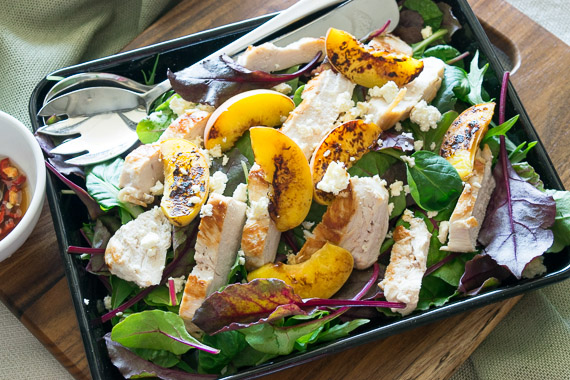 Grilled Chicken and Peach Salad with Crumbled Fetta
Prep time:

25

minutes

Calories: 360
Designed specifically for summer and timed perfectly to take advantage of our amazing stone-fruit season, this recipe contrasts sweet juicy fruit with salty fetta cheese. To complete the salad, and give a depth of flavour, you will finish with a delightful honey, chilli and sherry vinegar dressing. Share the moment you plate it #youplateit
Ingredients
2 Chicken Breast (skin on)

2 Peach

2 Tablespoons of Sherry Vinegar & Honey

1 Red Chili

1 150 Gram Pack of Mixed Lettuce

40 Grams of Fetta Cheese
Recipe
Prepare Ingredients:
Wash the fresh produce. Whilst still in bag, hit chicken with a rolling pin or pan to flatten it out to 1½ cm thickness. Remove from bag, pat dry and season with salt. Cut each peach into about 8 wedges. Thinly slice ½ the chili remove seeds if you don't like heat.
Grill Chicken:
Heat a large oiled pan on medium heat. Once hot, cook the chicken for 4-5 minutes per side until cooked through. Once done set chicken aside to rest.
Make Vinaigrette:
In the meantime, mix ½ tablespoon olive oil, sherry vinegar, honey and chili add chili to taste.
Grill Peach:
In the same pan used to cook the chicken, while on medium heat, add the peach slices. Grill until tender and charred on the outside, about 2 minutes per side. Set aside to cool.
You Plate It:
Slice chicken into 1-2 cm slices reserve juices. Put lettuce mix in a serving bowl or platter and toss with vinaigrette. Arrange the chicken and peach slices on top and scatter with the fetta, crumbling as you add. Drizzle with resting juices from chicken.