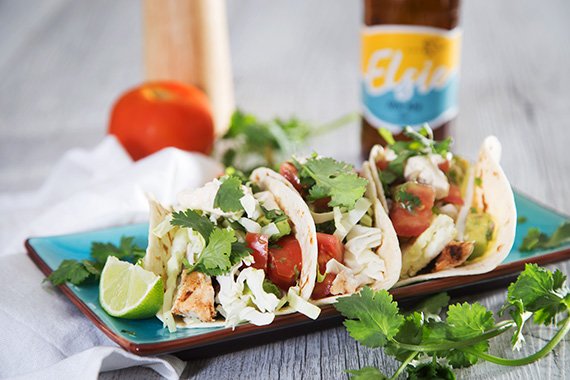 Grilled Fish Tacos with Salsa Fresca, & Chipotle Sour Cream
Prep time:

25

minutes

Calories: 585
Simple, grilled fresh fish combined with a simple cabbage salad and 'salsa fresca' - a fresh, uncooked mixture of chopped tomatoes and onions, coriander, fresh jalapeno and lime juice. We've added some in season avocado and chipotle and lime flavoured sour cream for a creamy finish. So much freshness - perfect with a crisp, local brew. Share your #youplateit moment with us on Instagram and enjoy!
Ingredients
300 Grams of Fish Fillets

1 Jalapeno

1 Small Bunch of Coriander

1 Teaspoons of Chipotle Chili Powder

1 Lime

1 Red Onion

0.125 Green Cabbage

80 Grams of Sour Cream

1 Tomato

1 6-Pack of Flour Tortillas

1 Avocado (small)
Recipe
Marinate Fish:
Turn on the BBQ (if using). Zest lime and cut into 6 wedges. Place the fish fillets in a large, shallow dish and brush with olive oil. Squeeze over 2 lime wedges, a sprinkle of salt, and ½ of the chipotle powder (adjust according to your taste). Allow the fish to marinade while preparing the remaining ingredients.
Prepare Ingredients:
Wash the fresh produce. Peel and small dice ¾ red onion (you will have left over). Pick coriander leaves (discarding stems) and roughly chop. Thinly slice cabbage, 2-3 mm thick. Dice tomato. Finely dice ½ the jalapeno (removing seeds if preferred - you will have left over).
Make Salsa and Sauce:
Mix the chopped tomato, 1 TBS diced red onion (to taste), jalapeno (to taste) and ½ the coriander in a bowl. Dice avocado and add to the bowl. Drizzle with a squeeze of lime juice and 1 TBS olive oil (extra virgin if you have it). Season with salt and pepper, stir through and set aside. To make the sauce, mix sour cream, lime zest, remaining chipotle powder (to taste, start with a pinch) and remaining lime juice in a bowl. Adjust seasoning as required.
Grill Fish:
Place the fish, seasoning side down, to cook on the BBQ. (If using a fry pan, heat oil (enough to cover base) over medium high heat). Cook for about 2–3 minutes each side, or until the fish is opaque and cooked through. Transfer the fish to a clean plate and rest. (TIP: To prevent the fish from sticking, you can cook your fish on baking paper in the fry pan).
Prepare Tortillas & Cabbage Salad:
Heat the tortillas by placing them on the BBQ grill for about 1 minute each side. Combine cabbage, remaining red onion (to taste) and remaining coriander in a bowl and toss well.
You Plate It:
Place a warm tortilla on a plate. Add a few chunks of fish, drizzle with chipotle sour cream, then add some salsa and cabbage salad. Make a small fold along the bottom edge of the tortilla and close from both sides, creating a little parcel that won't drip out the base. Enjoy!