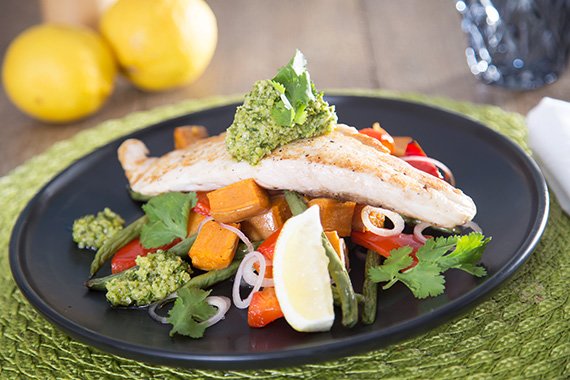 Grilled Fish with Cashew & Coriander Pesto, Sweet Potato & Green Bean Salad
Prep time: 25
Calories: 575
This no-fuss gluten-free dinner of fresh local fish served with creamy cashew pesto spiked with lemon and coriander may just surprise you. Paired with some roasted sweet potato, green beans and capsicum we think we may be onto a winner. Share the moment #youplateit on Instagram and Facebook and enjoy!
Ingredients
350 Grams of Sweet Potato (Small)

1 Lemon

2 Fish Fillets

150 Grams of Green Beans

40 Grams of Cashew Unsalted Roasted

1 Garlic Clove

1 Bunch of Coriander

1 Red Capsicum

1 Shallot
Recipe
Prepare Ingredients:
Preheat the oven to 200°C. Wash the fresh produce. Zest lemon and cut into wedges. Pick coriander leaves (reserving some for garnish). Peel garlic and shallot. Finely slice shallot. De-seed capsicum and cut into bite-size pieces (we did triangles, just for something dfferent). Trim beans (discarding ends). Cut sweet potato into 1.5 cm pieces.
Roast Veg:
Place sweet potato in a single layer on a lined baking tray. Drizzle with 1 TBS of olive oil. Season with salt and pepper. Place in the oven and roast, stirring halfway, for 20 minutes or until golden and tender. Add green beans and capsicum to another lined baking tray, drizzle with olive oil, salt and pepper. Add to the oven with sweet potato and bake for the remaining 10 minutes. (TIP: Once the sweet potato is in the oven, set a timer for 10 minutes - to stir and add beans and capsicum to the oven).
Make Pesto:
To a food processor (or stick mixer), add coriander leaves, garlic, cashew nuts, juice from 1-2 lemon wedges (or to taste) and a pinch of salt and pepper. Mix to combine. While the machine is running, stream in about ¼ cup olive oil (extra virgin if you have it). Continue blending, scraping down sides as needed, until creamy and fully combined. If it has trouble blending add a bit more olive oil or water. Taste and adjust seasonings as required.
Cook Fish:
Heat oil in a non-stick pan over medium-high heat. Pat dry fish with paper towel. Season with salt and pepper and add to the pan. Cook fish, turning once, until browned and almost opaque in the centre, about 5 minutes. (TIP: cooking time may vary slightly, depending on the thickness of the fillets).
You Plate It:
Spread sliced shallots over roasted sweet potato, capsicum, beans and mix well. Divide vegetables between plates top with fish and a generous dollop of pesto. Garnish with (reserved) coriander and remaining lemon wedges. Enjoy!