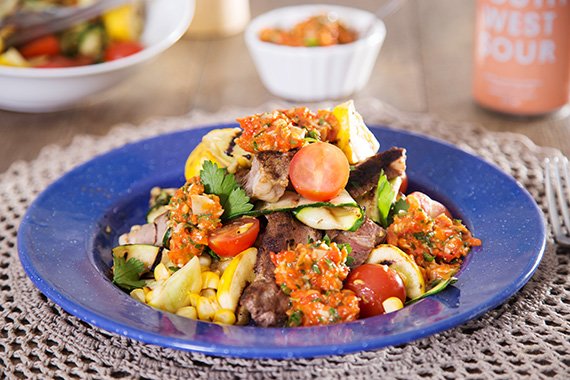 Grilled Steak with Romesco with Zucchini & Corn Salad
Prep time: 30
Calories: 570
Romesco sauce—a roasted red pepper and almond spread originating in the Catalonia area of Spain and traditionally has stale bread added too. We've left bread out in this recipe to make it a little lighter and gluten free. Served on a grilled steak with some delicious grilled veg, it's perfect excuse to crank out the BBQ and start those warm vibes happening. Share the moment #youplateit on Instagram and Facebook and enjoy!
Ingredients
350 Grams of Scotch Fillet Steak (Thick-Cut)

100 Grams of Fire Roasted Red Capsicum

1 Teaspoons of Smoked Paprika

1 Zucchini

150 Grams of Squash

3 Tablespoons of Flaked Almonds

1 Sweet Corn Cob

120 Grams of Cherry Tomatoes

1 Small Bunch of Flatleaf Parsley

1 Teaspoons of Red Wine Vinegar

1 Garlic Clove
Recipe
Prepare Ingredients:
Turn on the BBQ (if using, alternatively turn on the oven to 220°C). Wash the fresh produce. Peel garlic. Roughly chop roasted capsicum. Pick parsley leaves, discarding stems. Trim zucchini ends and thinly slice length ways 2-3 mm thick (use a mandolin or peeler if you have one handy). Remove corn husk and silks. Trim squash and cut into quarters. Slice tomatoes in half.
Cook Corn & Zucchini:
Add corn to BBQ (or oven, wrapped in foil) and roast for about 8-10 minutes until tender, turning regularly to avoid burning. At the same time, grill squash and zucchini strips (if desired - you can leave zucchini raw) for 1-2 minutes per side, cooking in batches if necessary. Season with salt and pepper and remove from heat. Set aside in a large bowl or platter, covering to keep warm. Leave BBQ on.
Grill Steak:
Pat steak dry on paper towel and sprinkle smoked paprika, salt and pepper on both sides. Add the steak to the hot BBQ (or hot pan on the stovetop) and cook 2-3 minutes before flipping. Flip 3 times for a total cooking time of about 10-12 minutes (or to your preferred doneness). Remove from pan, set aside to rest. (TIP: we supply our meat as a thick-cut piece, as we think it cooks much better as a bigger piece. You can always cut into thinner steaks if preferred, but bear in mind you will have to keep a closer eye on it to reach your desired doneness).
Make Romesco Sauce:
In the meantime, place capsicum, 2 TBS olive oil (extra virgin if you have it), parsley (reserve some for garnish), almonds, red wine vinegar and garlic in a food processor. Process until smooth. Season to taste and transfer to a bowl and set aside.
Finish Zucchini & Corn Salad:
On a clean work surface cut kernels from corn cob. Combine zucchini, squash, tomatoes and corn kernels. Gently toss and season as required.
You Plate It:
Slice steak to your desired thickness. Divide sliced steak between plates, alongside zucchini salad. Dress with romesco sauce and garnish with reserved parsley. Enjoy!