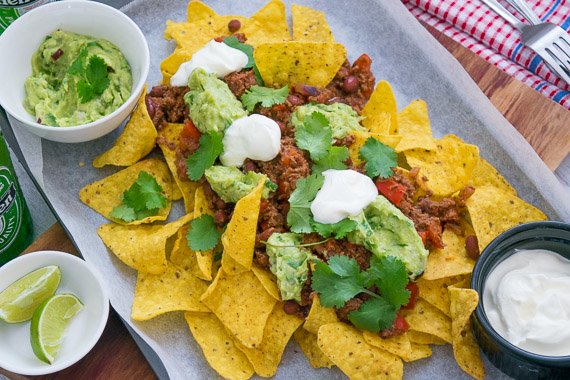 Guilt Free Beef Nachos Inspired by NOOD
Prep time:

35

minutes

Calories: 660
We're a of fan of local Perth business NOOD! Their philosophy is to re-educate people about what we're putting into our bodies and the importance of leading a healthy, balanced lifestyle. This recipe is inspired by the team at NOOD. They've also recently opened a café on Oxford Street, Leederville. Be sure to check them out!
Ingredients
1 of Red Onion

4 of Garlic Clove

2 Tbsp of Nacho's Spice Mix

1 of Red Capsicum (small)

250 g of Beef Mince

1 Small Bunch of Coriander

180 g of Tortilla Chips

1 of Avocado

1 of Lime

100 g of Greek Yoghurt
Recipe
Sauté Onion and Garlic:
Preheat the oven to 200°C. Line an oven tray with baking paper. Medium dice onion. In a large non-stick pot, heat olive oil and sauté
3
⁄
4
of the onions until translucent but not browned, about 5 minutes. In the meantime, mince garlic to resemble a paste and medium dice capsicum. When onions are translucent, add nacho's spice mix and half the garlic; cook for about 2 minutes more.
Start Beef Mixture:
Add diced capsicum and cook for a further 3 minutes. Add beef and cook until browned, breaking up with your spoon or spatula; season with salt and pepper. Pour in diced tomatoes and cook on low heat for about 15 minutes. Drain and rinse the beans.
Make Guacamole:
Cut the avocado in half and remove the stone. Using a spoon, scoop out the avocado into a medium bowl. Using a fork, mash the avocado with the juice of 2 lime wedges until smooth. Stir in the remaining garlic paste, half the coriander and as much of the remaining red onion as you' d like (you may have extra). Season with salt and pepper, and adjust lime juice to taste. Set aside as you continue cooking.
Add Beans:
Remove star anise. Add beans to the pot, and cook for a further 5 to 10 minutes until liquid is reduced and to your desired consistency. Taste, then season before turning off the heat.
Bake Tortilla Chips:
In the meantime, place tortilla chips on the lined baking tray. Add to the oven for 3 minutes to crisp up.
You Plate It:
Remove tortilla chips from oven. Cover with beef mixture followed by a generous layer of guacamole and finally a drizzle of yoghurt. Garnish with fresh coriander leaves and remaining lime wedges. Enjoy!