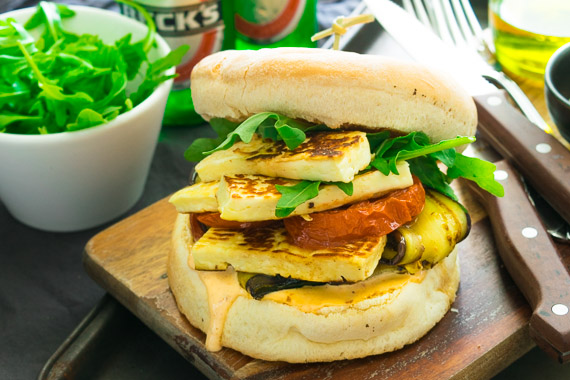 Haloumi Burger Inspired by Donna Hay with Roasted Tomato & Grilled Eggplant
Prep time: 20
Calories: 720
Haloumi tip: You need very little oil in your pan! Because haloumi releases liquid as it cooks, it doesn't tend to stick – but it's worth using a non-stick pan anyway, just in case. After a minute or two, the haloumi will begin to release some liquid. Don't flip the cheese just yet. Wait until the liquid has all been released. When the underside is browned to your liking, flip each slice over, and repeat with the other side. This time it will brown a lot quicker, as all the liquid has already been released.
Ingredients
2 Tomato

1 200 Gram Pack of Haloumi Cheese

150 Grams of Japanese Eggplant

2 Hamburger Buns

0.33 Cups of Peri Peri Mayonnaise

1 75 Gram Pack of Rocket & Baby Spinach
Recipe
Roast Tomatoes:
Preheat oven to 200°C. Thickly slice the tomato. Place slices on a lined baking tray, brush with oil and season with salt. Roast for 15 minutes or until cooked. Set aside.
Cook Haloumi:
Cut the haloumi into 8 equal sized pieces. Add oil to a large pan over medium heat. Carefully add the haloumi and cook 3 to 4 minutes per side until golden. Set aside.
Grill Eggplant:
Thinly slice the eggplant then brush with oil and season with salt. Add oil to the pan, then add the eggplant. Grill for 2 minutes each side or until cooked through. Cook in batches if required. Set aside.
Toast Buns:
Cut the hamburger buns in half. Add to the oven to toast for about 2 to 3 minutes.
You Plate It:
Spread the bottom of the hamburger buns with Peri Peri mayonnaise use as much as desired. Top the roasted tomato, grilled haloumi, eggplant and rocket & baby spinach leaves to serve. Enjoy!