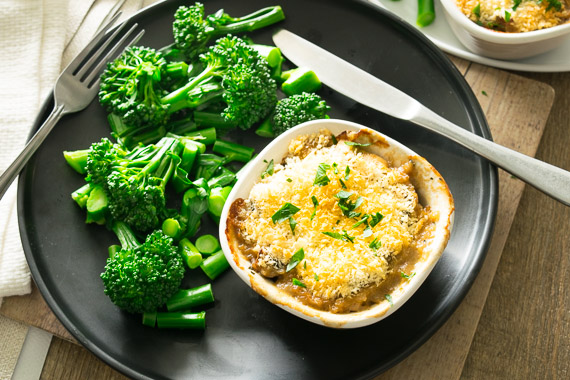 Hearty Chicken & Mushroom Pot Pies with Broccolini & Green Beans
Prep time: 40
Calories: 415
A homemade chicken pot pie is the ultimate in comfort food, and this recipe will quickly become a family favourite. With vegetables, chicken and bacon, no one will be able to resist them. Because of its neat size, these pot pies are great for lunch or dinner, and freeze beautifully if you're cooking for one or are making extra for later. Share the moment you plate it on Instagram #youplateit
Ingredients
2 Garlic Clove

1 Shallot

1 2 Pack of Shortcut Rib Bacon

150 Grams of Mushrooms

1 Small Bunch of Flatleaf Parsley

2 Chicken Breast

1 Teaspoons of Cornflour

1 250ml Pack of Chicken Stock

0.5 Cups of Whipping Cream

25 Grams of Panko Bread Crumbs

1 Bunch of Broccolini

180 Grams of Green Beans
Recipe
Prepare Ingredients:
Preheat oven to 200°C. Wash the fresh produce. Peel and mince the garlic. Peel and finely slice the shallot. Thinly slice mushrooms. Roughly chop the parsley leaves; discarding stems. Medium dice bacon. Pat dry chicken with paper towel, cut into 2 cm dice.
Start Pie Filling:
Heat oil in a heavy-based pan over medium heat. Cook shallot, garlic and bacon for 2 minutes, or until soft. Add mushrooms and chicken. Cook, stirring gently, for another 2 minutes, or until mushrooms soften slightly. Note: the chicken does not need to be cooked through at this point.
Finish Pie Filling:
In a small bowl, mix cornflour with 2 tablespoons of stock. Add to pan along with ½-¾ of the stock you will have remainder. Bring to the boil. Once boiling, cook for 1 minute, or until slightly thickened. Add cream. Cook to reduce liquid by half. Remove from heat. Season with salt and pepper to taste. Stir in about 2 tablespoons of the chopped parsley or less, depending on how much you like parsley.
Divide Between Ramekins & Bake:
Carefully divide pie filling between ramekins on a baking tray. Tip: fill the ramekins leaving about 1 cm from the top as the mixture will expand when cooking. Add bread crumbs. Bake for 20 minutes, or until golden. Once removed from the oven, let pies cool for a few minutes.
Prepare Broccolini:
In the meantime, trim the ends off the broccolini and beans then discard. Cut broccolini stems into 1½-2 cm pieces, leaving the floreats in tact. Cut beans into 2-3 cm pieces. Heat a medium pot of salted water to boil. When the pies are finished cooking, add the broccolini and beans to the pot of boiling water. Cook for about 2-3 minutes, or until cooked as desired. Drain the water from the pot.
You Plate It:
Divide pot pies, beans and broccolini between plates. Note: Let pot pies cool for a moment as they will be very hot when the come straight out of the oven. Enjoy!