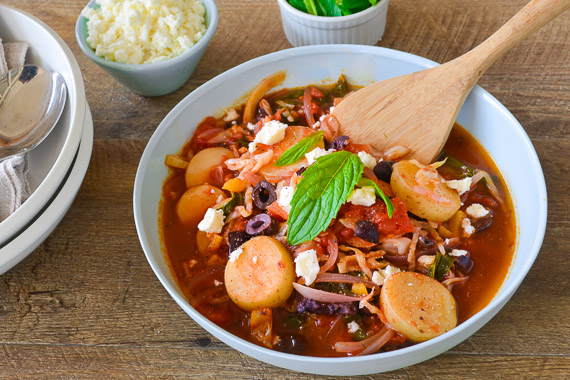 Hearty Sweet & Sour Stew with Silverbeet & Baby Potatoes
Prep time: 30
Calories: 700
In this recipe, locally grown silverbeet delicately balances our hearty sweet and sour stew. Our WA grown potatoes are a fantastic base on which to build this healthy and easy to cook dinner. The sweetness of the stew will be helped by dried apricots, which are a simple yet easy way to give a new flavour to this home cooked meal.
Ingredients
1 400 Gram Pack of Diced Tomatoes

250 Grams of Chat Potatoes

0.33 Bunch of Silverbeet

1 Red Onion

0.125 Green Cabbage

1 Small Bunch of Mint

60 Grams of Kalamata Olives (pitted)

60 Grams of Dried Apricots

1 Tablespoons of Sherry Vinegar

30 Grams of Fetta Cheese

1.5 Tablespoons of Sweet & Sour Stew Spice Mix
Recipe
Prepare Ingredients:
Wash the fresh produce. Cut the potatoes into 1 cm thick rounds. Remove and discard the silverbeet stems; thinly slice the leaves. Peel and thinly slice the onion. Cut and discard the cabbage core; thinly slice the leaves. Pick the mint leaves; discarding stems. Roughly chop the olives and dried apricots. Crumble fetta.
Start Stew:
In a medium-large pot, heat olive oil on medium-high until hot. Add potatoes and onion; season with salt and pepper. Cook, stirring frequently, 2 to 4 minutes, or until softened.
Add Silverbeet & Cabbage:
To the same pot, add the silverbeet, cabbage and ¼ cup of water; season with salt and pepper. Cook, stirring occasionally, 2 to 4 minutes, or until wilted.
Finish Stew:
Add the tomatoes, olives, apricots, spice mix, sherry vinegar and 1½ cups of water. Heat to boiling on high. Once boiling, reduce the heat to medium-low and simmer, stirring occasionally, 12 to 14 minutes, or until slightly reduced in volume and the potatoes are tender when pierced with a fork. Season with salt and pepper to taste. Remove from heat.
You Plate It:
Divide the finished stew between bowls. Garnish with the mint and fetta. Enjoy!