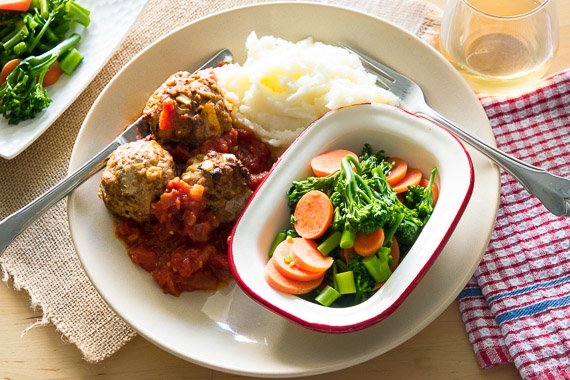 Home Made Chorizo Meatballs with Tomato Sugo, Veg & Dutch Cream Potato Mash
Prep time:

35

minutes

Calories: 670
Create your own chorizo meatballs with plenty of smoked paprika to give them that distinctive Spanish flavour. Don't forget to share the moment #youplateit with us on Facebook or Instagram!
Ingredients
2 Garlic Clove

1 Brown Onion

300 Grams of Pork Mince

1.25 Tablespoons of Smoked Paprika, Cumin, Chili & Oregano

2 Dutch Cream Potatoes

1 400 Gram Pack of Rich & Thick Diced Tomatoes - Classic

1 Bunch of Broccolini

1 Carrot

1 Tablespoons of Butter (pantry)
Recipe
Prepare Ingredients:
Preheat oven to 200°C. Wash the fresh produce. Heat a medium-large pot of salted water to boiling on high. Peel and mince the garlic. Small dice ¾ of the onion (you will have remainder).
Prepare Meatballs:
In a bowl, combine pork, ⅓ of the diced onion, ½ the garlic, spice mix, and ½ teaspoon of salt. Mix well to combine. Roll mixture into 6 evenly sized, 3 cm balls and add to a lined baking tray. Bake until golden brown, about 20 minutes.
Simmer Sauce:
Heat oil in a pan (or pot) on low to medium heat. Add the remaining onion and remaining garlic. Cook for about 5 minutes, or until softened, stirring occasionally. Add the diced tomatoes, increase the heat to medium. Cook 8 to 10 minutes, or until slightly thickened, stirring occasionally. Taste sauce and add salt and pepper as needed. Add meatballs to sauce in pan to heat through once cooked.
Prepare Mash:
Peel and medium dice the potatoes into 1 cm cubes. Add to the pot of boiling water. Cook 12 to 14 minutes, or until tender when pierced with a fork. When ready to mash, drain and return to the pot. Season with salt and pepper. Add a dash of milk (or water), and butter to taste. Using a potato masher, mash to your desired consistency. Set aside, covering to keep warm.
Prepare Carrot & Broccolini:
In the meantime, heat a pot of salted water to boil. Cut the carrot into 2 mm coins. Trim the ends off the Broccolini and discard. Cut Broccolini stems into 1½-2 cm pieces, leaving the florets in tact. Add the carrot and Broccolini to the pot of boiling water. Cook for about 2-3 minutes, or until cooked as desired. Drain the water from the pot.
You Plate It:
Divide sauce, meatballs, carrots, Broccolini and mash evenly between plates. Enjoy!