Description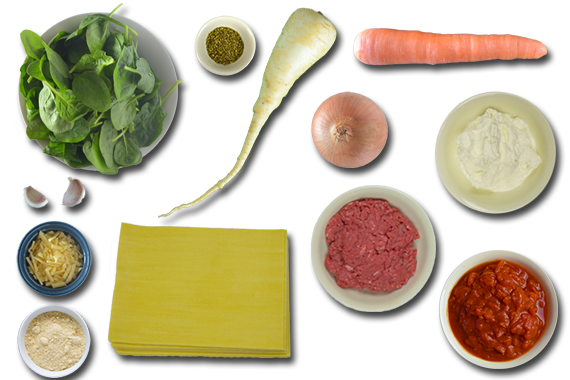 Ingredients
250 Grams Beef Mince
1 Brown Onion
2 Garlic Clove
1 Carrot
1 Parsnip
2 Cups Baby Spinach
1 Teaspoons Dried Oregano
4 Large Lasagna Sheets
1 400 Gram Pack Diced Tomatoes
0.75 Cups Ricotta
0.5 Cups Parmesan Cheese
0.75 Cups Mozzarella (Grated)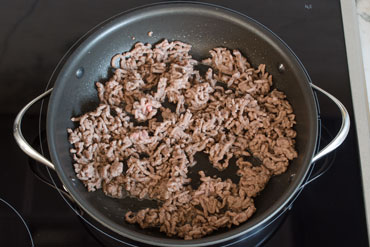 Sauté Beef:
Preheat oven to 200° C. Heat 1 tablespoon olive oil in a large ovenproof fry pan over high heat. When oil is shimmering, add beef and sauté, breaking up with a spoon, until browned. Using a slotted spoon, remove beef from pan and set aside on a plate. Meanwhile, wash the fresh produce. Peel and mince onion and garlic. Peel carrots and parsnip and cut into 1 cm dice.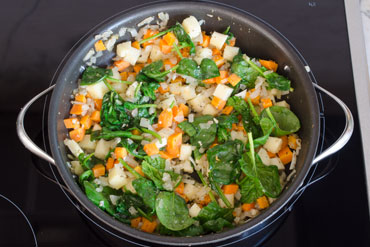 Cook Vegetables and Lasagna:
In the same pan, add vegetables (except the spinach) and oregano, season with salt and cook over medium heat until onions are soft and translucent, about 3 minutes. Add spinach and cook until wilted, 2 minutes more. Meanwhile, bring a medium-large pot of water to a boil over high heat. When water is boiling, add lasagna sheets and cook 1 minute. Drain and drizzle over 1 tablespoon olive oil. Set aside.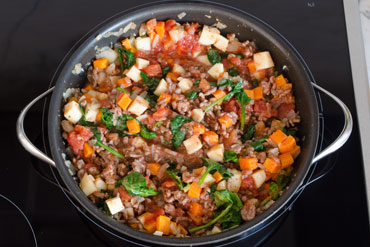 Prepare Sauce:
Add cooked beef back to pan with vegetables. Pour in diced tomatoes and stir to combine. Simmer for 10 minutes more. Taste and add salt and pepper as needed. In a separate, medium bowl, combine ricotta and half the parmesan. Taste and add salt and pepper as needed.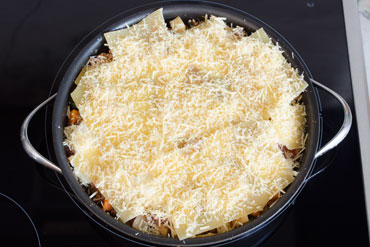 Assemble Lasagna:
Pour sauce into a large bowl. Spoon about ½ cup into bottom of your oven proof fry pan (or a medium size oven proof dish). Top with 1 or 2 lasagna sheets, depending on the size of your dish. Add another layer sauce, then ricotta-parmesan cheese mixture, then lasagna sheet. Repeat in this order using all sauce and cheese mixture, ending with lasagna sheet on top. Top with remaining parmesan.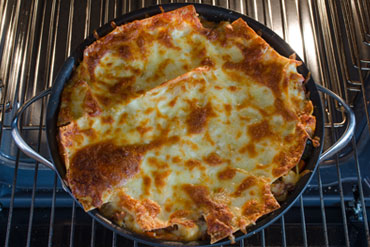 Bake Lasagna:
Cover pan with foil, place in oven, and bake for 10 minutes. Uncover, sprinkle over mozzarella, and continue baking until lasagna is heated through and bubbling, about 8-10 minutes more until the cheese is golden brown.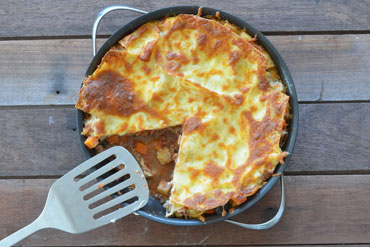 You Plate It:
Remove lasagna from oven and allow to rest for at least 5 minutes. Cut into 6 even pieces and spoon 1 onto each plates. Store remaining lasagna refrigerated in an airtight container up to 3 days. Enjoy!