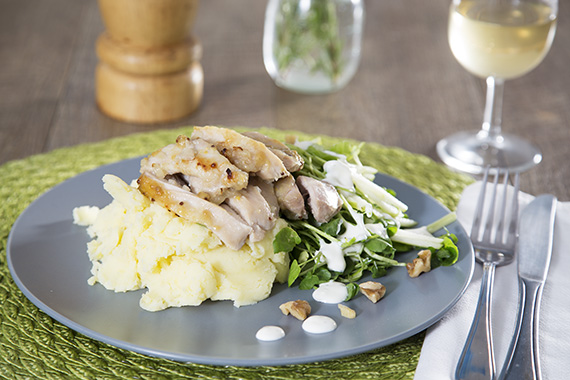 Honey Mustard Chicken with Apple Salad and Mash
Prep time: 30
Calories: 710
The delicious savoury, sweet chicken in sticky honey mustard sauce served alongside mashed potatoes with crunchy apple salad will become a family favourite! Finding something for dinner that everyone loves, including the kids, can be a challenge but we are sure this will tick all the boxes. Share your moment on Instagram #youplateit.
Ingredients
3 Chicken Thighs (skinless)

3 Tablespoons of Honey Mustard Marinade

3 Potatoes (Large)

1 Tablespoons of Butter (pantry)

1 Stalk of Rosemary

1 Green Apple

1 Stalk of Celery

2 Tablespoons of Walnuts

0.5 Cups of Greek Yoghurt

1 Lemon

1 Pack of Watercress
Recipe
Prepare / Cook Chicken:
Preheat oven to 180°C. Wash the fresh produce. Pat dry chicken with paper towel and place in an oven proof dish. Rub honey mustard marinade all over the chicken and season with salt and pepper. Add rosemary leaves discarding the stalk to the chicken and put in the oven for about 20-25 minutes until juices run clear when pricked.
Cook Potatoes:
Meanwhile, peel potatoes and cut into 2 cm chunks. Cover with water in a pot and bring to the boil. Cook until tender about 8-10 minutes. Drain, add butter and set aside, covering to keep warm.
Prepare Salad:
While potatoes are cooking, prepare the salad. Thinly slice apple into matchsticks Tip: use a mandolin if you have one. Thinly slice celery on a slight angle. In a bowl, combine apple and celery with watercress, walnuts and a squeeze of lemon Tip: this prevents the apple from going brown. In a small bowl combine yoghurt and lemon juice to taste and season with salt and pepper.
Mash Potatoes:
Using a potato masher, mash potatoes to desired consistency. Season with salt and pepper.
Slice Chicken Optional:
Remove chicken from oven and, if preferred, slice for serving.
You Plate It:
Divide mash and salad between plates and top with chicken sliced or whole. Drizzle with yoghurt to taste over salad to dress. Enjoy!