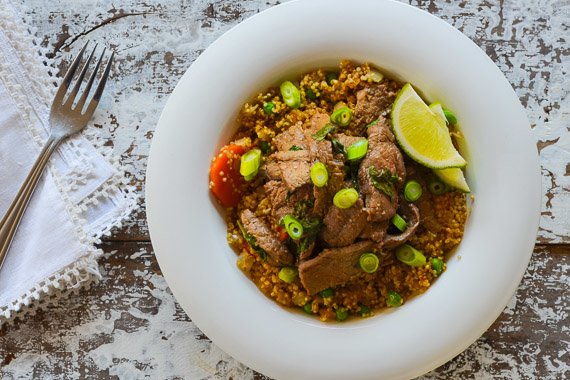 Honey, Soy & Lime Porterhouse Strips with Quinoa Stir Fry
Prep time:

35

minutes

Calories: 710
In this recipe you will include the delicate flavour of Thai basil, a Southeast Asian variety of basil with small leaves and purple stems. Also known as 'bai horapa', it has notes of anise flavour but a familiar basil smell. You will make a traditional and easy marinade using fresh lime, soy and honey together with Sriracha (the one and only) to introduce as much heat as you like. Be sure to read the entire recipe before you begin cooking and share the moment you plate it.
Ingredients
0.66 Cups of White Quinoa

0.5 Cups of Peas

250 Grams of Porterhouse Steak (Thick-Cut)

2 Carrot

1 Brown Onion

2 Spring Onion

1 Small Bunch of Thai Basil

2 Garlic Clove

20 Grams of Soy Sauce (GF)

2 Teaspoons of Sriracha Sauce

1 Teaspoons of Honey

1 Lime
Recipe
Cook Quinoa:
Wash quinoa well under cold water in a fine strainer, gently rubbing the seeds together with your hands to remove any remaining residue. Combine 1⅓ cups water and washed quinoa in a pot with a small pinch of salt and bring to the boil. Once boiling, reduce the heat to very low and place on a lid. Simmer on low heat for 15 minutes or until all the water has absorbed; then turn off the heat. Rest for at least 10 minutes then fluff the quinoa with a fork.
Prepare Ingredients:
Wash the fresh produce. Pat dry beef with paper towel and cut into 1½ cm thick, stir fry strips. Peel carrots and cut into 0.3 cm rounds. Peel and mince garlic. Medium dice half the onion (you will have remainder). Halve lime; cut 1 half into 6 wedges and reserve remainder. Trim and discard roots of the spring onions, and thinly slice. Pick Thai basil leaves, discarding stems.
Marinate Beef:
In a medium bowl, combine juice of half the lime, garlic, half the soy sauce, half the Sriracha (add as much or as little as you like), and honey. Add beef and toss to coat. Marinate at room temperature for at least 10 minutes.
Stir Fry Quinoa:
Heat vegetable oil in a medium pan over medium heat. When oil is shimmering, add carrot and onion and sauté until fragrant, about 2 minutes. Add peas and sauté until warm, 3 minutes. Stir in quinoa, remaining soy sauce and Sriracha sauce (to taste) and cook until combined, 2 minutes. Transfer to a bowl and cover to keep warm. Wipe pan clean.
Cook Beef:
Add vegetable oil over high heat. When oil is just smoking, add beef, reserving marinade in the bowl. Heat until just cooked through, about 1 minute. Reduce heat to medium, add Thai basil (tearing as you add) and reserved marinade. Cook until well combined, about 1 minute more or until cooked to your liking.
You Plate It:
Divide quinoa between bowls. Top with beef and spoon over sauce. Garnish with remaining lime wedges and spring onion. Enjoy!