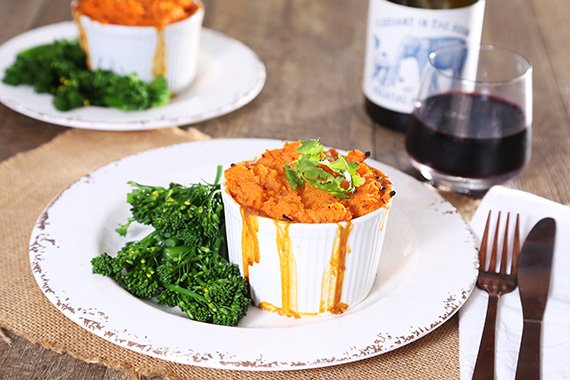 Indian Style Sweet Potato & Dahl Pie with Broccolini
Prep time:

35

minutes

Calories: 565
Spiced red lentil dhal topped with creamy sweet potato mash in this vegetarian dish - a wholesome and delicious weeknight meal. Packed with goodness and served with greens, this dish should tick the health AND comfort food boxes during these cold nights. Share the moment #youplateit with us on Instagram.
(TIP:
you can put your greens in a heat proof bowl and pour boiling water over them. Ensuring they are fully covered, leave them for a 3 - 5 minutes and drain - blanched, crunchy greens - voila!)
Ingredients
300 Grams of Sweet Potato (Small)

1 Brown Onion

1 Carrot

85 Grams of Split Red Lentils

1 Tablespoons of Curry Powder

1 Ginger

2 Garlic Clove

1 Bunch of Broccolini

1 Small Bunch of Coriander

1 Tablespoons of Butter (pantry)

40 Grams of Tomato Paste

1 Tablespoons of Vege Stock Concentrate

1 75 Gram Pack of Baby Spinach
Recipe
Prepare Ingredients:
Preheat oven to 200°C. Wash the fresh produce. Peel and small dice ¾ of the onion (you will have left over). Peel and mince garlic and ginger. Pick coriander leaves, discarding stems and roughly chop leaves. Peel carrot (optional) and medium dice. Place a pot of water on to boil for blanching broccolini in step 5.
Cook Lentil Dahl:
Put the kettle on to boil water for stock. Heat oil (enough to cover base of the pot) over medium-high heat and fry the onion and carrot for 2 minutes. Add garlic and ginger and cook, stirring for 1 minute more. Add in the curry powder and stir to combine. Add 1½ cups boiling water with the tomato paste, vege stock concentrate and lentils. Cover, reduce heat and simmer for 20 minutes until the carrots are tender and the liquid has been absorbed. Stir in a large handful of baby spinach and coriander leaves (reserving some for garnish) and mix until wilted.
Cook Sweet Potato:
While the dahl is cooking; peel sweet potato and cut into 2 cm chunks. Cover with water in a pot and bring to the boil. Cook until tender, about 8 - 10 minutes. Drain, add butter and mash until smooth. Taste and season with salt and pepper as required.
Bake Pie:
Spoon the lentil dahl into one big or smaller individual ovenproof ramekins and top with the sweet potato mash. Place in the oven and bake for 10 minutes, until sweet potato crisps up and browns around the edge.
Blanche Broccolini:
Trim ends off broccolini and add to the pot of boiling water. Cook, 2 - 3 minutes until bright green or until done to your liking. Drain well and season with salt and pepper.
You Plate It:
Serve up dahl and sweet potato pie with broccolini on the side. Garnish with reserved coriander leaves and enjoy!