Description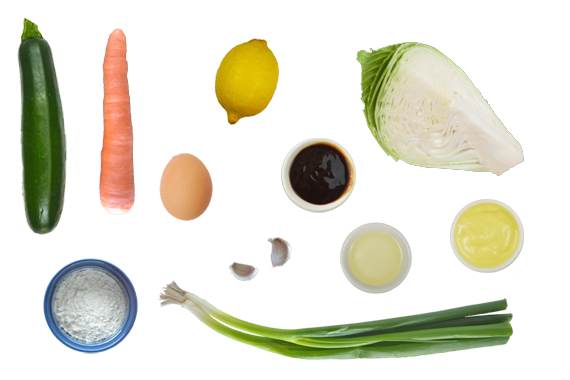 Ingredients
2 Garlic Clove
0.125 Green Cabbage
1 Zucchini
1 Carrot
1 Cups Plain Flour
1 Lemon
2 Spring Onion
5 Tablespoons Hoisin & Mirin
50 Grams Mayonnaise
1 Egg (pantry)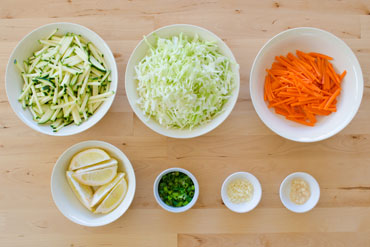 Prepare Ingredients:
Wash the fresh produce. Cut off and discard the roots of the spring onions; thinly slice the spring onions. Peel the garlic cloves; mince 1 clove. Mince the other clove; then, using the flat side of your knife, smash until it resembles a paste. Using a box grater, shred the carrot and zucchini. Cut the zucchini into thin matchsticks (or grate using a box grater, then squeeze out as much of the liquid as possible). Core and very thinly slice the cabbage. Cut the lemon into 6 wedges.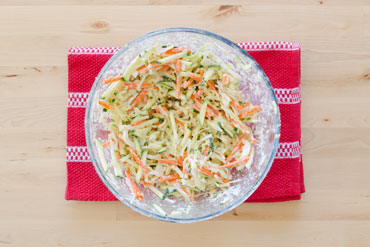 Make Batter:
In a large bowl, combine half the spring onions with the minced garlic, carrot, zucchini, cabbage, ¾ cup of water and some salt. Crack the egg into a separate, small bowl. Using a fork, briefly beat the egg, then add it to the bowl of vegetables. Gradually sprinkle in the flour. Stir gently until just combined.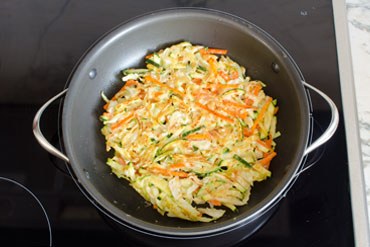 Cook Pancakes:
In a medium nonstick pan, heat a thin layer of oil on medium until hot. Add half the batter to the centre of the pan and spread it toward the edges. Cook 4 to 5 minutes, or until golden brown. Carefully flip and cook an additional 4 to 5 minutes. Transfer to a plate. Repeat this process with the remaining batter.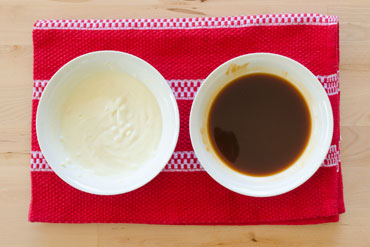 Make Sauces:
In a small bowl, mix the hoisin & mirin together well. In a separate small bowl, stir together as much of the garlic paste as desired, mayonnaise, 2 teaspoons of olive oil and as much lemon juice as desired. Season with salt to taste.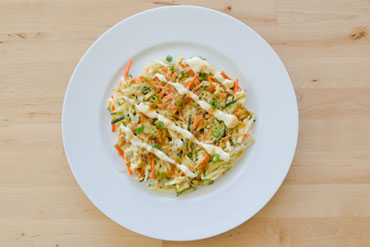 You Plate It:
Divide pancakes between plates. Garnish each with the remaining spring onions and lemon. Drizzle the sauces over each in a decorative pattern. Enjoy!