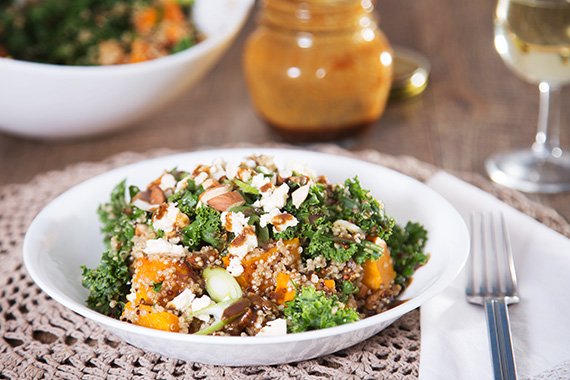 Kale, Quinoa & Pumpkin, Dried Figs, Almonds & Pomegranate Molasses
Prep time:

25

minutes

Calories: 600
Calling this a "salad" doesn't do it justice. From the protein packed quinoa, fibre-rich figs, and heart-healthy kale, this dish packs a serious nutritional (and flavour) punch. Combined with a tangy pomegranate molasses vinaigrette, creamy fetta and roasted almonds and you have yourself a winner. Perfect for a meat free Monday ;). Share the moment #youplateit with us on Instagram and enjoy! (TIP: If you have a clean, empty jar chuck all of the vinaigrette ingredients in there and give it a good shake).
Ingredients
0.33 Bunch of Kale

60 Grams of Dried Figs

40 Grams of Roasted Almonds

0.5 Cups of White Quinoa

1 Tablespoons of Pomegranate Molasses

450 Grams of Butternut Pumpkin

2 Teaspoons of Vege Stock Concentrate

1 Spring Onion

40 Grams of Danish Fetta

0.5 Tablespoons of Dijon Mustard

2 Teaspoons of Red Wine Vinegar
Recipe
Prepare & Roast Pumpkin:
Preheat oven to 200°C. Peel pumpkin, de-seed and cut into 1.5 cm pieces. Place pumpkin pieces on a lined oven tray (use 2 trays if necessary), drizzle with olive oil and season with salt and pepper. Coat pumpkin well and cook in the oven for 20 minutes, until tender. (NOTE: you don't have to discard the pumpkin seeds - you can actually roast them along with the pumpkin and add to the salad. It's up to your personal preference).
Cook Quinoa:
Place quinoa into fine sieve/colander and rinse well under cold water. Place quinoa in a pot with 1 cup of water and stock concentrate, then bring to the boil. Reduce heat and simmer for about 10 minutes or until all liquid has been soaked up and quinoa is tender and fluffy.
Prepare Remaining Ingredients:
Wash the fresh produce. De-stem the kale and roughly chop. Roughly chop almonds and figs. Thinly slice spring onion on a slight angle.
Make Pomegranate Molasses Vinaigrette:
In a small bowl (or jug) combine dijon mustard, red wine vinegar, pomegranate molasses and 2 - 3 TBS olive oil (extra virgin if you have it). Mix well. (TIP: If you have a clean, empty jar chuck all of the ingredients in there and give it a good shake).
You Plate It:
In a salad bowl, combine kale with roasted pumpkin, quinoa, spring onions, almonds and figs. Dress with vinaigrette and toss well to combine. Divide the salad between plates and crumble fetta over the top to garnish. Enjoy!