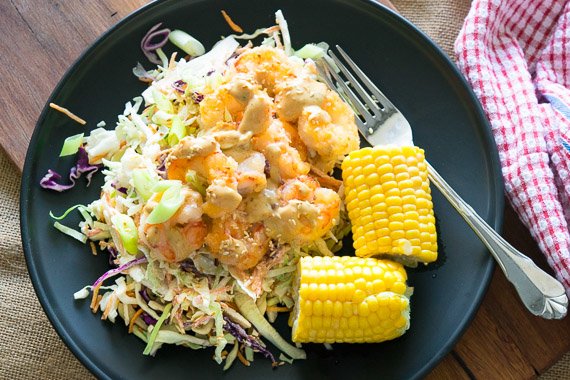 Kickin Prawns - Inspired by Tony Romas with Oven Roasted Corn & ready to go Coleslaw
Prep time: 25
Calories: 490
Kickin' prawns have been on the Tony Roma menu since 1972. The recipe is so tasty, and so popular, that home chef's the world over share their recipes online. For this recipe, you will use Byron Bay fiery coconut chilli sauce as the "kicker" mixed with mayonnaise for balance. We think the Byron Bay sauce makes this version equal to the original. Share the moment #youplateit on Instagram
Ingredients
2 Teaspoons of White Sesame Seeds

1 Sweet Corn Cob

2 Teaspoons of Butter (pantry)

300 Grams of Prawns (peeled, tail off)

0.25 Cups of Cornflour (GF)

1 250 Gram Pack of Coleslaw Veg (Chopped)

3 Tablespoons of Greek Yoghurt

1 Spring Onion

25 Grams of Mayonnaise

2 Tablespoons of Byron Bay Fiery Coconut Chilli Sauce
Recipe
Toast Sesame Seeds & Roast Corn:
Preheat oven to 250°C. Heat a dry large pan on medium heat. Add the sesame seeds and toast for 3-5 minutes or until lightly fragrant, stirring occasionally. Set aside for garnish. In the meantime, remove and discard the husks and silks of the corn. Cut corn in half or into 4 pieces. Slice butter. Cut aluminium foil large enough to hold corn, top with butter, then seal edges to form a parcel. Add wrapped corn to oven, roast for 15 minutes.
Prepare Prawns:
Pat dry and devein (if required) the prawns. Add cornflour to a plate or bowl, then add the prawns; toss to lightly coat evenly.
Cook Prawns:
In the same pan used to toast the sesame seeds, heat a thin layer of cooking oil on medium heat. Carefully add the cornflour dusted prawns. Cook, 4 minutes on each side or until cooked through. (Tip: We found using a fork the easiest way to turn the prawns over.) Set aside on a paper lined plate.
Prepare Coleslaw & Spring Onion:
Add coleslaw and Greek yoghurt to a large bowl. Season with salt and pepper to taste. Mix well to combine. Thinly slice the spring onion, set aside for garnish.
Prepare Sauce & Cover Prawns:
In a large bowl, combine the mayonnaise and the Byron Bay fiery coconut chilli sauce. Add the cooked prawns and mix to combine.
You Plate It:
Divide roasted corn, prawns and dressed coleslaw between plates. Sprinkle over the sliced spring onion and toasted sesame seeds. Enjoy!