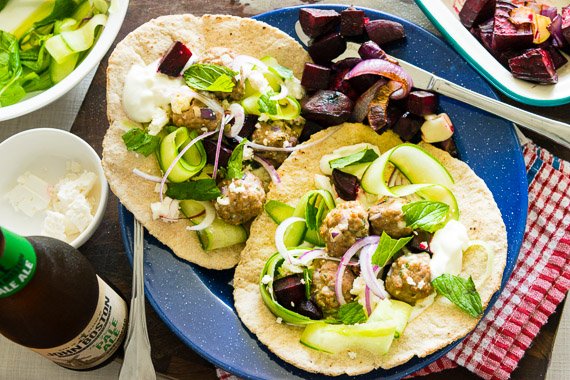 Lamb and Fetta Meatball Pitas with Roasted Beets - Inspired by Donna Hay
Prep time:

35

minutes

Calories: 747
Traditionally, meatballs are fried in oil in a pan. Baking meatballs, however, has several advantages over frying them. It doesn't require oil, so baked meatballs have a lower fat content than fried. Baked meatballs also take less time and effort; you don't have to watch them on the stove and turn them as they brown. PLUS a baking tray holds more meatballs than even the largest pan, so you can make them easily for a crowd!
Ingredients
3 Red Beetroot

1 Red Onion

3 Garlic Clove

1 Small Bunch of Mint

300 Grams of Lamb Mince

120 Grams of Fetta Cheese

1 5 Pack of Pita Bread

100 Grams of Greek Yoghurt

1 Lebanese Cucumber
Recipe
Roast Vegetables:
Preheat oven to 180°C. Peel and dice beetroot into 1½ cm pieces. Cut ½ the red onion into 1 cm slices. Combine diced beetroot, sliced red onion and 2 whole garlic cloves on a lined baking tray with a drizzle of olive oil. Season with salt and pepper. Add to the top shelf of the oven, roast for 20 to 25 minutes.
Prepare Ingredients:
Peel and mince remaining garlic. Small dice ½ the remaining red onion (reserve remainder for step 4). Pick the mint leaves discarding stems (reserve some leaves for garnish) and roughly chop or tear mint leaves.
Prepare Meatballs:
In a medium bowl, crumble half the fetta (reserve remainder for garnish). Add the lamb mince, chopped mint, minced garlic, the diced red onion (use as much or as little as desired). Season generously with salt and pepper, then mix well to combine. Using your hands, roll into about 15–18 meatballs. Add to a lined baking tray and bake for 10 minutes. Alternatively, you can cook meatballs in a non-stick fry pan over medium heat for 12–14 minutes or until browned and cooked through.
Slice Cucumber & Red Onion:
In the meantime, cut the cucumber into thin slices (using a wide vegetable peeler if you have one). Very thinly slice the remaining red onion.
Toast Pitas:
Carefully place the pitas directly onto the oven rack (or a lined baking tray). Toast 2 to 3 minutes, or until lightly browned and warmed through. Remove from the oven, set aside to cool.
You Plate It:
When the pitas have cooled, top with the yoghurt, meatballs, cucumber, thin onion slices, remaining fetta and mint leaves. Season with salt and pepper as required. Serve with roasted beetroots on the side. Enjoy!