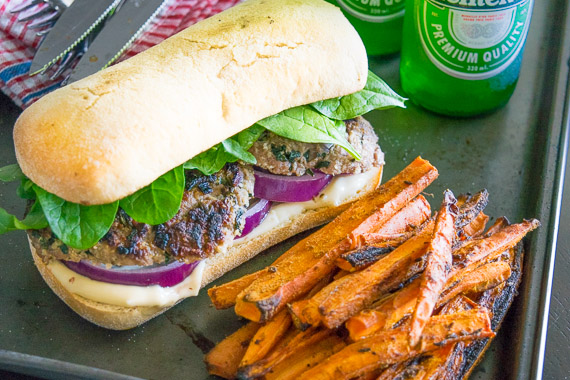 Lamb Burger with Garlic Aioli and Roasted Carrot Fries
Prep time: 25
Calories: 700
This lamb burger recipe will soon be a household favourite. It's a classic combination made from WA lamb, panko breadcrumbs, garlic, mint and a spice mix of cumin and caraway seeds. We've decided to combine this tasty patty with a simple salad of red onion and spinach. A nice serve of oven-baked carrots is a great tasting and surprisingly healthy side. Share the moment you plate it on Instagram #youplateit
Ingredients
1 Garlic Clove

2 Turkish Roll

1 Small Bunch of Mint

400 Grams of Carrot

1 Red Onion

280 Grams of Lamb Mince

0.3 Cups of Panko Bread Crumbs

0.3 Cups of Garlic Aioli

2.5 Tablespoons of Mediterranean Spice Mix

1 75 Gram Pack of Baby Spinach
Recipe
Prepare Ingredients:
Preheat the oven to 200°C. Wash the fresh produce. Peel and mince the garlic. Roughly chop the mint leaves, discarding stems. Peel and cut the carrots into 1 cm thick sticks. Peel and cut the red onion in half; thinly slice half into rings; small dice the remaining half.
Make Carrot Fries:
Place the carrots on a lined baking tray. Season with salt, pepper and the Mediterranean spice mix, reserving 2 teaspoons. Drizzle with olive oil and toss to thoroughly coat. Roast, stirring halfway through, about 20 minutes, or until tender and browned. Remove from the oven and set aside.
Make Burgers:
While the carrots are roasting, in a large bowl, combine the lamb mince, bread crumbs, remaining Mediterranean spice mix, minced garlic, mint and as much minced onion as you'd like you may have extra; season with salt and pepper. Gently mix to incorporate. Using your hands, form into patties.
Cook Burgers:
In a large non-stick pan, heat olive oil on medium until shimmering. Add the patties and cook for 5-6 minutes per side, or until cooked to your desired degree of doneness. Transfer cooked burgers to a plate; when cooled slightly, split patties in half width wise. Set aside in a warm place. Lightly cook onion rings in this step if you prefer to cook slightly.
Toast Bread:
Cut the bread in half. On a second lined baking tray, add the bread, cut side up and drizzle with a little olive oil. Add to the oven when there is only 3 to 5 minutes remaining on carrots cooking time.
You Plate It:
To assemble the burgers, spread a thin layer of the garlic aioli onto the insides of the bottom side of the toasted bread. Place as much of the onion rings as you'd like onto the bottom halves of the buns. Top with a burger patty use 2 halves across each burger and baby spinach. Serve with carrot fries and your choice of beer. Enjoy!