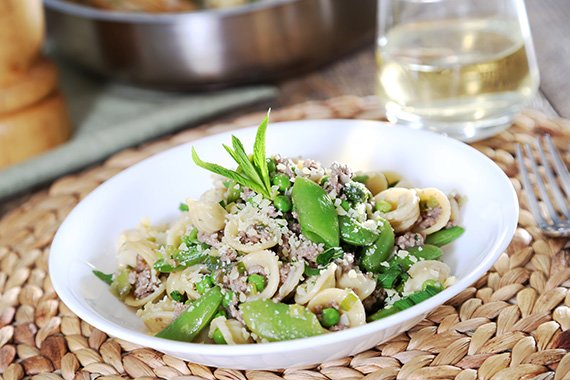 Lamb, Mint & Pea Orecchiette Pasta
Prep time:

25

minutes

Calories: 700
Mint and lamb have gone hand in hand since before cookbooks. There is evidence to show the flavour combination extends as far back as when cooking tips were passed between generations by oral history. For this recipe you will use the flavour combination to create a sauce for orecchiette pasta. We love to use this small ear-shaped pasta because it is the perfect shape for collecting the flavours of a meat based sauce. Enjoy and share the moment #youplateit with us on Instagram.
Ingredients
180 Grams of Orecchiette Pasta

80 Grams of Peas

3 Garlic Clove

1 Small Bunch of Mint

3 Spring Onion

240 Grams of Lean Lamb Mince

2 Tablespoons of Butter (pantry)

0.25 Cups of Parmesan Cheese

120 Grams of Sugar Snap Peas
Recipe
Cook Pasta:
Heat a medium pot of salted water to boiling on high. Once boiling, add orecchiette pasta and cook about 8 - 10 minutes, or until al dente (still slightly firm to the bite). Reserve at least 1 cup of the pasta cooking water and drain the pasta thoroughly. Lightly drizzle over olive oil; stir through then set aside.
Prepare Ingredients:
While the pasta cooks, wash the fresh produce. Peel and thinly slice the garlic. Pick and roughly chop (or tear) the mint leaves; discarding stems. Cut off and discard the root ends of the spring onion, then thinly slice. De-string the sugar snap peas and cut in half on a slight angle. (NOTE: We had a suggestion from a customer to add in some more greens on this recipe, so we listened. That's why you don't see any sugar snaps in the pic 😉 )
Cook Aromatics:
In a large pan, heat olive oil on medium until hot. Add the spring onion and garlic and season with salt and pepper. Cook, stirring frequently, 2 - 3 minutes, or until softened and fragrant.
Add Lamb:
Increase the heat to medium-high, add the lamb mince, breaking up as you add. Season with salt and pepper. Cook, stirring occasionally 2 - 3 minutes, or until browned and cooked through.
Finish Pasta:
Add the peas, sugar snap peas, cooked pasta, butter, half of both the Parmesan cheese and mint (saving the rest for garnish) and ½ - ¾ cup of the reserved pasta water. Cook, stirring occasionally, 3 - 5 minutes, or until slightly reduced, well combined and heated through. (If the sauce starts to look dry, add as much of the remaining pasta cooking water as you'd like to reach your desired consistency.)
You Plate It:
Remove from heat and season with salt and pepper to taste. Top with the remaining parmesan cheese and mint to taste. Enjoy!