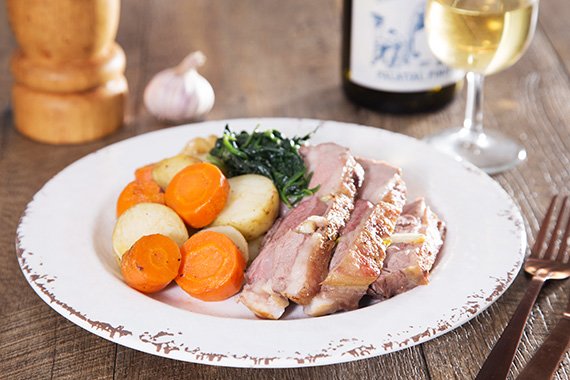 Lamb Roast with Creamed Spinach, Twice Cooked Buttered Potatoes and Carrots
Prep time:

40

minutes

Calories: 650
Roast lamb doesn't just have to be on the weekend. To make it quick enough for mid-week we're using a smaller boneless cut that cooks quickly. While the roast cooks we then prepare sides of creamed spinach, baby potatoes and carrot - a perfect compliment to moist roast WA lamb. Enjoy #youplateit
Ingredients
400 Grams of Lamb Rump Roast

2 Garlic Clove

2 Carrot

400 Grams of Chat Potatoes

1 200 Gram Pack of Baby Spinach

2 Tablespoons of Butter (pantry)

0.2 Cups of Parmesan (Shredded)
Recipe
Roast Lamb:
Preheat the oven to 190°C. Line a baking tray with foil. Cut four x1 cm deep inserts into the fat side of the lamb roast. Slice 1 garlic clove into quarters, then insert quarters into each cut. Roast for 30 - 35 minutes, or until the lamb reaches your desired doneness. (An instant-read thermometer should register 58-60°C for medium.) Once cooked, transfer to a cutting board and loosely cover with foil while resting for at least 10 minutes.
Prepare Ingredients & Cook Vegetables:
While the lamb roasts: Wash the fresh produce. Peel and mince the remaining garlic. Trim ends of the carrot and slice both potatoes and carrot into 1.5 cm rounds. Place carrot and potato in a pot and cover with water. Cover with lid and bring to a boil over high heat. Cook for 6 - 8 minutes, or until just tender when pierced with a fork; drain and set aside.
Start Spinach:
In a large high sided pan, heat olive oil on medium until hot. Add the spinach and season with salt and pepper. (Cook in batches if required). Cook, stirring frequently, 2 - 3 minutes, or until completely wilted. Remove the wilted spinach from the pan and drain thoroughly; set aside. Wipe out the pan.
Finish Potatoes & Carrots:
In the same pan, melt half the butter on medium-high. Add the drained potatoes and carrots and cook, tossing to coat, 1 - 2 minutes, or until thoroughly coated and lightly browned. Remove from heat and season with salt and pepper to taste.
Finish Spinach:
In the same pan, melt the remaining butter on medium. Add the garlic (to taste) and spinach. Cook, stirring frequently, 30 seconds to 1 minute. Turn off the heat and stir in 1 - 2 TBS of water (if required) and the parmesan cheese. Stir until creamy. Season with salt and pepper to taste.
You Plate It:
Find the lines of muscle in the roast, then thinly slice against the grain. Divide the roast lamb, creamed spinach, potatoes and carrots between plates. Enjoy!