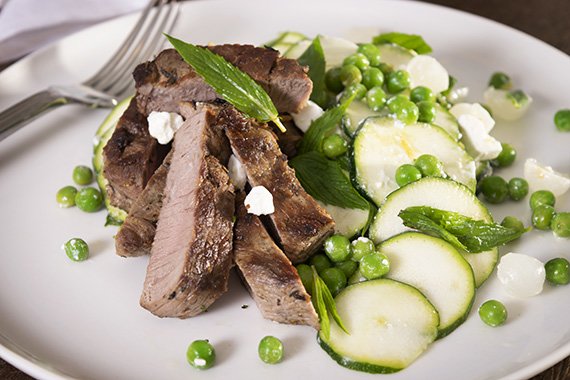 Lamb Steaks with Zucchini, Peas and Mint
Prep time: 25
Calories: 570
What goes better with lamb than mint! This is a delicious mid-week meal - not too heavy but with heaps of flavour. The zucchini, lemon and mint marry beautifully together, along with the peas. Treat yourself with a crisp lager along side and enjoy! Share your food pics on Instagram #youplateit.
Ingredients
320 Grams of Lamb Steaks

1 Small Bunch of Mint

2 Zucchini

150 Grams of Peas

2 Garlic Clove

1 Teaspoons of Thyme & Oregano (Dried)

50 Grams of White Cocktail Onions

1 Lemon

50 Grams of Danish Fetta
Recipe
Marinate Lamb:
Peel and mince garlic. Pat lamb dry on paper towel and place in a bowl. Add garlic and dried herbs with 1 Tbs olive oil and season with salt and pepper. Coat lamb well and leave to marinate while preparing remaining ingredients.
Prepare Ingredients:
Wash the fresh produce. Thinly slice zucchini into rounds (use a mandolin if you have one). Cut pickling onions in half and zest lemon. Pick mint leaves (reserving some for garnish), discard stems and roughly tear the leaves.
Cook Lamb:
Heat olive oil in a pan (enough to cover the base). Cook lamb over a medium-high heat for about 8 minutes (depending on thickness), turning once halfway. Remove from heat and set aside to rest for 5 minutes. (TIP: if you prefer, you can lightly cook the zucchini - it's up to you. We kept ours raw for an extra crisp salad).
Prepare Salad:
Combine zucchini, peas, mint leaves (to taste), onions and crumbled fetta in a bowl. Add lemon zest (to taste), lemon juice and 2 Tbs olive oil (extra virgin if you have it). Season with salt and pepper to taste and toss well.
You Plate It:
Slice lamb into desired thickness. Divide salad among plates and serve with sliced lamb. Garnish with reserved mint leaves. Enjoy!