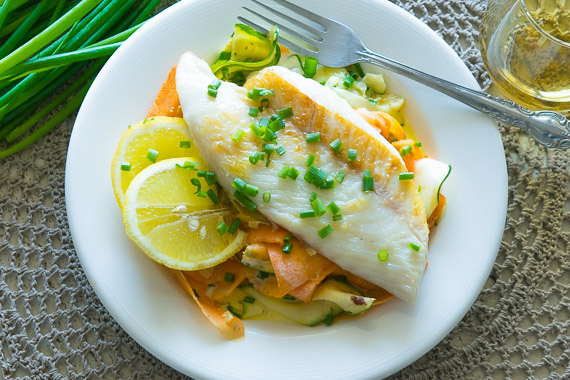 Light & Healthy Grilled Fish with Carrot & Zucchini Vegetable Pasta
Prep time: 30
Calories: 350
Zucchini pasta is easy to make and very healthy. Cooking tip: use a vegetable peeler to quickly and easily create long and consistently sized strips of vegetable. Zucchini is a great low-carb alternative to regular pasta. To give a little more texture and colour, you will use carrot in the same fashion. Combined with line caught local fish, this recipe is our healthy choice for the week. Share your food photos on Instagram #youplateit
Ingredients
2 Carrot

1 Zucchini

2 Fish Fillets

1 Brown Onion

1 Garlic Clove

100 Grams of Thickened Cream

1 Small Bunch of Chives
Recipe
Prepare Vegetables:
Using a wide vegetable peeler, peel long thin strips from the carrot and zucchini. If you don't have a wide vegetable peeler, thinly slice with a knife.
Prepare Onion & Garlic:
Medium dice ½ the onion you will have remainder. Peel and mince the garlic.
Cook Fish:
Heat oil in a non-stick pan on medium-high heat. Season fish on both sides. Cook for 2-3 minutes each side or until just cooked through. Transfer to a plate. In the meantime, thinly slice the chives.
Prepare Sauce:
Heat oil in the same pan and reduce the heat to medium. Cook the diced onion and garlic to taste for 1 minute. Add cream and chives. Stir gently until heated through.
You Plate It:
Add carrot and zucchini ribbons and cook, stirring gently until just heated through but not limp. Season to taste. Divide and transfer to plates, top with fish. Enjoy!