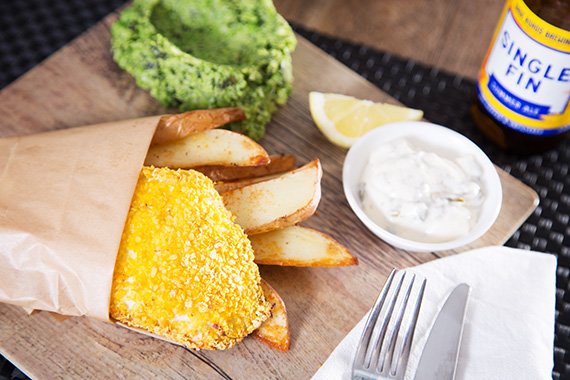 Lupin Crusted Fish with Minted Broccoli & Pea Mash
Prep time:

25

minutes

Calories: 680
Lupins: It really is hard to imagine a more remarkable product - One of the highest sources of plant proteins available (40%), one of the highest sources of dietary fibre and easily digestible with high bio-availability of essential nutrients and minerals just to name a few. Another bonus is that they are almost exclusively grown right here, in the South West of Western Australia. Share the moment #youplateit on Instagram and Facebook and enjoy!
Ingredients
2 Fish Fillets

70 Grams of Lupin Flakes

3 Royal Blue Potatoes

1 Small Bunch of Mint

1 Cups of Peas

3 Tablespoons of Butter (pantry)

1 Teaspoons of Paprika

1 Broccoli (small)

1 Lemon

50 Grams of Tartare Sauce
Recipe
Cook Potato Wedges:
Preheat oven to 200°C. Cut the potatoes in half then into 1-2 cm wedges. Sprinkle with paprika and salt and enough olive oil to coat. Place potato wedges on a lined baking tray. Add to the top shelf of the oven and bake for 25 minutes, (Tip: Set timer for 5 minutes time to add the fish in step 2), flipping half way through, until crisp and golden.
Crumb & Bake Fish:
Meanwhile, zest lemon and cut into wedges. In a bowl, microwave 2 TBS butter in 15-second intervals until completely melted. Pat dry fish with paper towel. Combine lupin flakes and lemon zest in a large bowl (or plate). Season with salt and pepper. Brush the fish with melted butter and then press into the lupin flakes. Place fish on a lined baking tray, for the last 20 minutes. Cook until the crumb is golden and the fish is cooked through (Note: cooking time will vary depending on thickness of fillet).
Cook Broccoli & Peas:
While potatoes and fish are cooking, bring a pot of salted water to the boil. Cut broccoli into bite size florets. Add broccoli to the pot of salted water, reduce heat to low, cover and simmer, for 5 minutes until tender. Stir in peas and cook for another 2 minutes, drain well.
Finish Mash:
Pick mint leaves and roughly chop, discarding stems. Add remaining butter and chopped mint to the drained broccoli and peas. Season with salt and pepper. Using a fork or potato masher, mash to your desired consistency (we liked ours a little chunky).
You Plate It:
Divide potato wedges and fish between plates, alongside the broccoli/pea mash. Serve with tartare sauce and a lemon wedge on the side. Enjoy!