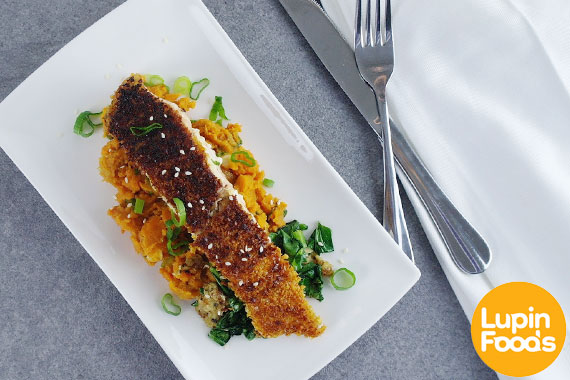 Lupin Flake Crusted Salmon with Mashed Sweet Potatoes & Mustard Greens
Prep time: 30
Calories: 590
In this recipe you will use a WA signature ingredient – Lupin flakes. Lupins are rich in protein and are the world's richest natural source of protein 40% and fibre 37%. They are easily digestible, cholesterol free and are naturally gluten free. In this recipe you will use them in a similar fashion to panko, but the result is an entirely different taste that goes wonderfully with salmon.
Ingredients
2 Salmon Fillets (Skinless)

400 Grams of Sweet Potato (Small)

3 Garlic Clove

0.5 Bunch of Mustard Greens

2 Spring Onion

4 Tablespoons of YPI Mirin-Miso Paste

20 Grams of Soy Sauce (GF)

1 Ginger

1 Teaspoons of White Sesame Seeds

0.25 Cups of Lupin Flakes
Recipe
Prepare Ingredients:
Wash the fresh produce. Heat a medium pot of salted water to boiling on high. Peel and mince the garlic and ginger. Remove and discard the stems of the mustard greens; roughly chop the leaves. Thinly slice the spring onion, separating the white bottoms and green tops. Peel and dice the sweet potatoes, about 1-2 cm.
Marinate Salmon & Make Miso Mixture:
Place the salmon on a small plate and top with half of the soy sauce. Let stand to marinate as you continue cooking. In a small bowl, mix the mirin-miso paste and remaining soy sauce; whisk until smooth.
Cook Potatoes:
Add the sweet potatoes to the pot of boiling water. Cook 10 to 12 minutes, or until tender when pierced with a fork. Drain the potatoes thoroughly and return to the pot. Add the mirin-miso mixture. Using a masher or fork, smash the potatoes. Add the white parts of the spring onion and a pinch of the green parts of the spring onion. Stir to combine and season with salt and pepper to taste. Set aside in a warm place.
Cook Salmon:
Place the lupin flakes onto a plate. Remove the salmon from the marinade letting the excess drip off, then thoroughly coat 1 side of each marinated salmon fillet with the lupin flakes. In a medium non-stick pan, heat olive oil on medium-high until hot. Add the salmon to pan, crusted side down first. Cook 3 to 4 minutes per side, or until the lupin flakes are browned and crispy and cooked to your desired degree of doneness. Transfer to a plate and set aside. Wipe out the pan.
Cook Greens:
In the same pan, heat olive oil on medium-high until hot. Add the garlic and ginger; cook, stirring constantly, 30 seconds to 1 minute, or until fragrant. Add the mustard greens and season with salt and pepper. Cook, stirring occasionally, 1 to 2 minutes, or until wilted then remove from heat.
You Plate It:
Divide the smashed potatoes and mustard greens between plates. Top each with a piece of salmon. Garnish with the sesame seeds and remaining green parts of the spring onion. Enjoy!