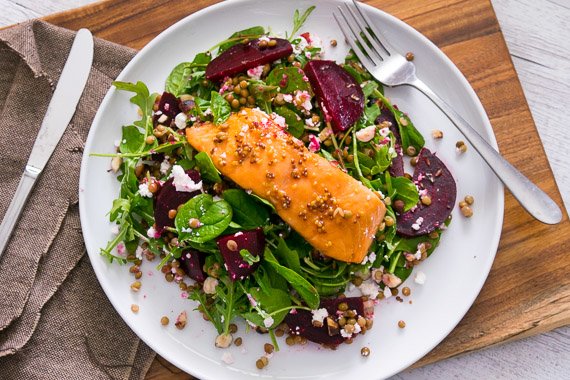 Maple Glazed Salmon with Hazelnut, Fetta & Baby Beetroot Salad
Prep time:

25

minutes

Calories: 559
Maple syrup comes from the maple tree and is collected by drilling small holes in the trunk and collecting the sap that slowly comes out. Fun fact: The Canadian province of Quebec is the largest producer, responsible for 75% of the world's output. In this recipe you will combine the sweetness of maple syrup with mustard and soy to make a delicious marinade. #youplateit
Ingredients
30 Grams of Maple Salmon Marinade

2 Salmon Fillets (Skinless)

1 400 Gram Pack of Lentils

50 Grams of Fetta Cheese

30 Grams of Hazelnuts

1 75 Gram Pack of Rocket & Baby Spinach

150 Grams of Baby Red Beetroot

1.5 Tablespoons of Dijon Honey Mustard
Recipe
Cook & Peel Beets:
Preheat oven to 200°C. Heat a pot of salted water to boiling on high. Add the beetroot and cook for about 20 minutes, or until tender when pierced with a fork. Drain thoroughly and transfer to a bowl. When cool enough to handle, using a paper towel and your fingers, gently rub the skins off the cooked beetroot. Slice the peeled beetroot.
Marinade Salmon:
Pat dry salmon with paper towel, place in a shallow bowl or dish and add marinade; turning to coat. Place in the fridge for 10 minutes to develop the flavours.
Cook Salmon:
Place the salmon on a lined tray. Pour over remaining marinade. Cook for about 8 to 10 minutes or until salmon caramelises and is cooked to your liking. Transfer to a plate and cover with foil. Set aside for 5 minutes to rest.
Toast Hazelnuts:
In the meantime, place hazelnuts in a small pan or pot over medium-low heat. Toast until fragrant and golden brown, stirring continuously, 3 to 4 minutes. Remove from heat and roughly chop.
Prepare Salad:
Drain and rinse the lentils. In a bowl, combine the ½ can lentils (or as much as desired), sliced beetroot, 2 handfuls of spinach and rocket, toasted hazelnuts and fetta (crumble as you add). Drizzle honey mustard (using as much as desired) over the salad, toss to combine.
You Plate It:
Divide salad among plates. Top with salmon. Enjoy!